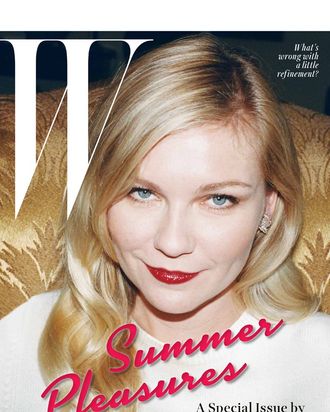 W editor-in-chief Stefano Tonchi tapped Sofia Coppola as guest editor for a special issue that will accompany the title's May edition, which was unveiled yesterday with an arresting image of Rosamund Pike on the cover. Coppola, unsurprisingly, tapped Juergen Teller to photograph her close friend and muse Kirsten Dunst for the cover of her special issue, and inside, there are contributions from high-profile friends like Cornelia Guest and Marisa Berenson. According to Tonchi, the director was very hands-on, even commandeering his desk at times. (Then again, this isn't her first time at the rodeo — Coppola has previously served as a guest editor for French Vogue.)
"I never realized how much work goes into a magazine. It's kind of similar to doing a movie," Coppola told WWD. "I'm surprised how they do it every month." She said her favorite part of the magazine was the beauty closet.

"No one has made a good movie about making magazines," Tonchi hinted broadly to Coppola. "I'd be a big supporter of that. There have been some good ones, but they are only about the tears that go into it." But what about the joy? What about that?