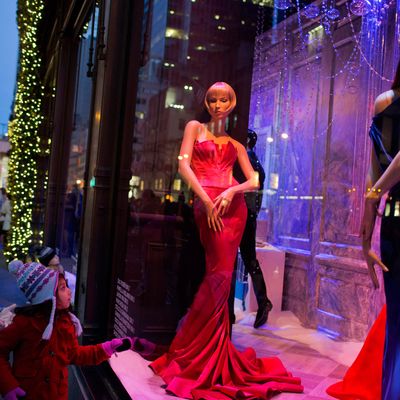 Photo: Victor J. Blue/Bloomberg via Getty Images
Retail stores, struggling to draw customers away from the pantsless pleasures of online shopping, have begun to use wacky, avant-garde mannequins to get shoppers into their stores, the Wall Street Journal reports.
Now instead of your standard skinny, disproportional bodies, some mannequins have tattoos, facial hair, wrinkles, and even two left hands. Dior has mannequins with changeable facial features to model beauty looks. Intermix's mannequins strike "slouchy, casual poses" so shoppers can see what clothes look like on people with poor posture.
Some retailers, meanwhile, are using mannequins that resemble actual humans. Mannequin makers like London-based Adel Rootstein are swapping size 4 mannequins for a curvier size 6 options. (Nobody seems to want to use those Venezuelan mannequins with the big butts though.) The Journal relays that Ralph Rucci employs a Christy Turlington mannequin built using the supermodel's proportions, while Bergdorf Goodman's mannequins are simply named Diane and Helga.
Wait — is Bergdorf Goodman producing a Mannequin reboot, or trying to sell clothes?