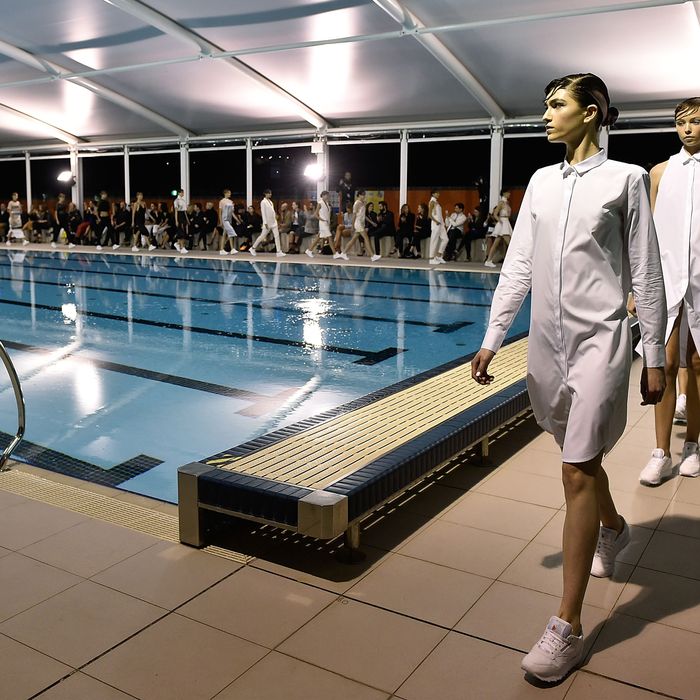 "Sydney is the new London." It's a phrase that bubbles up more and more every season, including this week, as designers, editors, and bloggers flew out for MBFW Australia, which concluded yesterday. On the surface, the comparison makes sense. There are plenty of (non-meteorological) overlaps between the two capitals. London is traditionally the "young" fashion week (and home of Central Saint Martins, full of upstarts and creative thinking), though its crop of youngsters is rapidly maturing. It's also a place where daring, noncommercial design is encouraged and where antics, such as a presentation in a parking garage or a fake locker room, aren't out of place.
Certainly, Sydney is a hothouse of exciting, raw talent, evidenced in the recent shows. Christopher Esber showed another strong lineup of cool, tailored looks; Kym Ellery took the ear-cuff trend a step further with models in nose chains at her Ellery show. Refreshingly, Karla Spetic showed her collection of geometric gowns poolside, and Haryono Setiadi acquitted himself nicely in his sophomore season with ethereal origami dresses.
But two factors prevent Sydney from ever being as mainstream as London Fashion Week. One is retaining talent. LFW got a big vote of confidence from the international press when Burberry returned to London in 2009 for its high-production, spectacle-heavy shows (after showing in Milan for years). Another boost came when American expat Tom Ford chose to show there. Plenty of top editors fly into town "just for Burberry and Tom," then stay for homegrown labels like Christopher Kane, Erdem, J.W. Anderson, and Mary Katrantzou, which have continued to show in London rather than defecting to bigger fashion capitals.
But Australian designers tend to go elsewhere once they make it. Dion Lee has shown in New York for the past two seasons, though he did present a collection in Sydney this week. Contemporary Aussie brands Sass & Bide and Zimmermann held shows in New York recently as well. Tome designers Ryan Lobo and Ramon Martin have found critical adulation in their adopted Manhattan home.
The second, perhaps thuddingly obvious factor, is distance. While more and more members of the international press fly out every season, a daylong flight coupled with crippling jet lag is a commitment, even for fashion diehards. And afterward, the simple question of geography makes it tough to get samples out to the American and European press in a timely manner. If Esber and company start to receive more international attention, they will likely decamp in the hopes of having their wares reach a larger audience.
But there is a silver lining. Isolation from the quartet of Major Fashion Capitals could be a good thing for these designers creatively. They can use their removal from the center of the fashion scene to pursue unusual, personal aesthetics — for example, Lee's bioluminescent and wave-inspired looks inspired by his surf-happy hometown. So let's call Sydney what it is: very much its own animal, for the good of all concerned.
Click through our slideshow for some of the highlights.