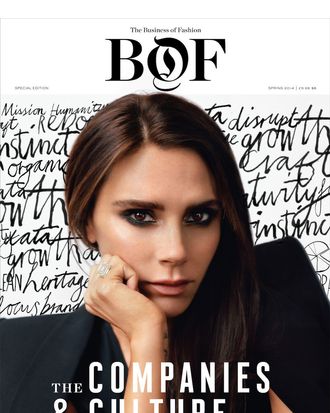 Photo: Alasdair McLellan for The Business of Fashion
Victoria Beckham is giving major executive realness on the cover of Business of Fashion's second print edition, out on April 28. The issue promises insight into Beckham's meteoric rise in the fashion industry, and also features pieces on a variety of brands, including Hermès, J.Crew, and Instagram. The Cut spoke to editor Imran Amed about Beckham's cover story (the first part of which is available online), as well as the other heavy hitters he lined up for the issue.
Why did you decide to put Beckham on the cover? What do you think she represents?
The same reason we do all of our stories, which is curiosity. There was this celebrity-designer boom that happened in the mid-2000s. If you look back, there's a whole trail of celebrity-designer brands that didn't work. [Beckham] was not only a celebrity designer, but also, she completely transformed the way the industry perceived her. I was just really curious about how she went about doing that. How she went from being someone that at first the industry wasn't as warm to and now the industry seems to have really embraced. It seemed to me that there was more to this story than just her celebrity. There was more to it than just what appeared on the surface, and the only way to get in there and figure it out was to sit down and talk to her myself.
She talks in the story about not playing the fame card — not necessarily using that, even though she could — to promote her business.
She acknowledges what being famous can do for her in the context of the business, but she also acknowledges that it's a double-edged sword. And I think if you recall back in 2008, when she debuted her collection, I distinctly remember the snickers and the dismissals that people in the industry would whisper to each other. And you fast-forward six or seven years, and she's really managed to get the industry to take her seriously.
What did she say during your conversation that surprised you?
I was really surprised with the frankness and honesty with which she addressed all of my questions. There are so many different elements that have really played a part in [her] success story. And clearly it's still early days. What's really interesting is that she has this massive global profile and her name is really well known. And that profile far, far exceeds the scale of the business now, but when you see the work ethic — and I guess this is the thing that surprised me the most — is that I think people imagine that people like Victoria Beckham, they just put their name on things and let everyone else do the work. My sense, at least, was that she really, really does work hard. I think it'll be one of the very first articles that's been written about Victoria Beckham as an entrepreneur, not Victoria Beckham as a celebrity.
It probably doesn't hurt though, that she's a celebrity and she's gorgeous, having her on the cover.
In terms of putting her on the cover, of course. I really like the idea of serious business stories about the fashion industry reaching a wider audience than just the industry and we all know that there's a great amount of interest in Victoria Beckham, even in the some of the trivial things that happen in her day-to-day life. We'll see how the story is received but I hope it will reach a much, much wider audience than we normally reach with some of our other, more industry-focused stories, just because she has such a wide-ranging fan base.
You also have features on Rick Owens and Mickey Drexler.
This whole issue was built around this idea, this one observation I've had over the course of my career: companies that are really successful, they tend to be good about one or two things. I mean, they have to execute at a certain adequate level across a number of activities, but really when it comes down to it, they always have a secret sauce.
In-N-Out is actually a really good example of that. Not to make a pun on secret sauce, but they just don't change their menu. It's not like they have the new burger of the month. They just have a couple of successful offerings.
Exactly. The mission I set out to my team and our writers and contributors was, let's make up a list of the companies around the whole fashion industry that we're most curious and fascinated by and [I said], Let's try to unravel what makes these companies successful. Mickey Drexler was always at the top of my list — he's got this nickname, the Merchant Prince. I spent a lot of time chatting with Mickey about the power of data and instinct. You can have an instinct about what's going to be hot, but if you're running a $2 billion business, you can't make decisions on instinct alone. You need to back up your hypotheses with data and evidence. So the conversation with Mickey was "What's the secret to great merchandising?" For Rick Owens, they've really created a world in and of itself. One of the really key lessons from that story was that basically Rick said something like "We build. We don't buy." So everything they create comes from within this beautiful creative bubble.
And then you have Kevin Systrom, the co-founder of Instagram.
We've been watching Instagram. Like most of the fashion industry, we've been fascinated by the lengths to which the industry has really embraced Instagram. People don't dismiss Instagram like they do Twitter or Facebook. Also, over the past few years we've seen this explosion of fashion technology start-ups, and what better start-up to talk to? They had a very, very lean team; how do you build a really lean impactful start-up? Kevin basically shared some of his key lessons, for all of those entrepreneurs out there who are building fashion technology companies — his advice on building a great fashion technology company in the rapidly changing digital environment in which we all live.
What are some of the other things in the issue that you're excited about?
There's a wonderful story on Hermès. I went in with one of our writers to meet with [artistic director] Pierre-Alexis Dumas. Just listening to him talk about his family business — it was a very philosophical conversation, and it really took a whole different slant than I expected. You could tell that the values and culture of Hermès: He's been raised on them. They're part of who he is as a person, and they're very, very closely linked to the way he thinks about his own life. I did an interview with Angelica Cheung, the editor-in-chief of Vogue China, which was also fascinating because I was in Beijing and went up this tall office tower and you see this brand-new magazine that was only started five or six years ago that's very rapidly become the most powerful magazine in the most important luxury goods market in the world. What we were trying to really showcase is that there's no single path. There are lots of different paths.
You're distributing the magazine in a lot of amazing boutiques and stores, such as Colette and Browns. Who is the audience for this magazine? Is it the same audience for the website, someone who might pick it up for more of a celebrity or fashion angle and then might see all this content? Whom are you hoping to reach?
Well, one of the most exciting and unexpected things that started happening that I started noticing a few years ago was that actually the fastest-growing segment of our audience had nothing to do with the fashion industry.
Really? Are they businesspeople who invest in fashion?
No, they are lawyers and doctors and entrepreneurs and housewives and smart, dynamic women who are just interested in a different point of view on fashion. Our whole point of view is obviously built around understanding how the business works, and I think because of the way the fashion industry has opened up in recent years, there's a lot more information available about fashion. The reason we're selling it in all of those boutiques and department stores around the world is that's where a lot of our audience spends their time. They're those women who are buying those kind of clothes from those kinds of stores. We expect to reach, obviously, our core industry audience, but also a wider consumer audience as well.
Did you work from an advertising model?
Obviously we're going to sell the issue, but we also have an issue sponsor, McArthurGlen. They're one of the leading designer-fashion outlet companies in the world. So they're the sponsor of the whole issue.
Is there anything else going on with the site?

BoF will be unveiling something special next week on Monday to go along with the second part of the article. It's a brand-new initiative.
Is it digital?
Yeah, it's digital. It's a surprise.
This interview has been edited and condensed.