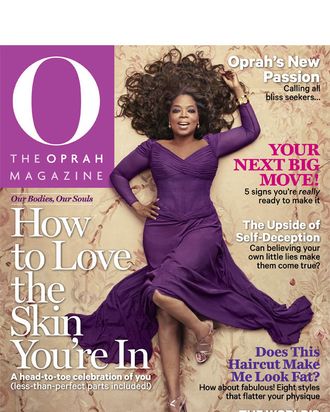 Photo: Ruven Afanador/O Magazine
In January of this year, rumors surfaced that perpetual-cover-girl Oprah Winfrey wanted to leave her throne on the front of every O: The Oprah Magazine. This was a difficult pill to swallow. Oprah knows this is hard for us, so she is trying to ease out of her position as slowly and painlessly as possible.
This month, she has stopped with the efforts of verticality and is literally lying upon the floor, listening to Michael Bublé and saying things like: "I'm not one to get hung up on numbers, but if you want to say 60 is the new 40, I'll take that," and:
You know when I'm home in my spare time I just get dressed up and lay on the floor sprawled in an evening gown.
She certainly meant that to sound sarcastic, but, actually, it's exactly how Oprah exists in the imagination. We'll take it.