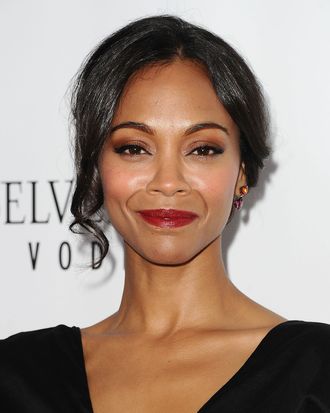 Photo: Jason LaVeris/WireImage
As any Paris Fashion Week attendee knows, the traffic: Quel nightmare. Sitting through traffic is bad enough, but worse is having eyelashes like Parisian traffic. Zoe Saldana, the new face of L'Oréal Paris, knows this firsthand, explaining to Style.com how she copes with having lawless, congested lashes:
I've been using [L'Oréal Paris Voluminous Black Mascara] now for a couple of years because the brush combs my unruly eyelashes. I don't have perfect eyelashes that grow in the same direction — they look like Paris traffic.
Now if only mascara could solve air-pollution problems.