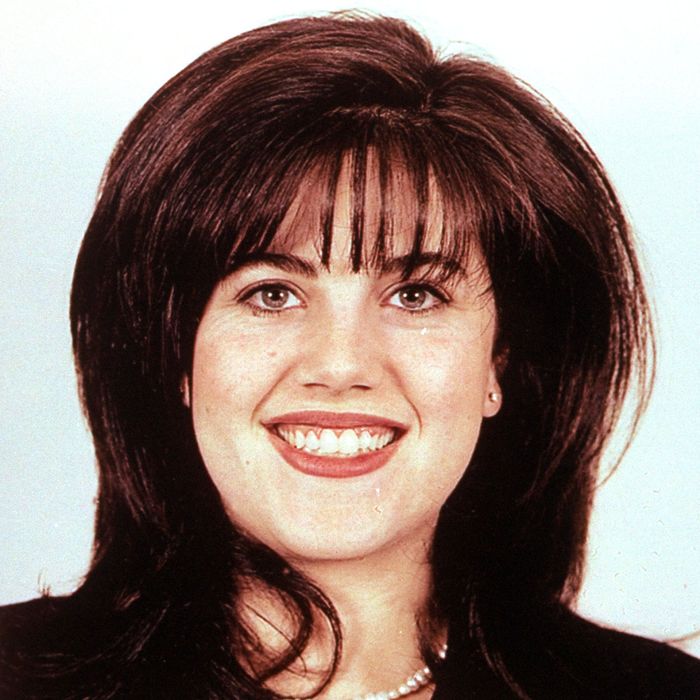 Photo: Helene Stikkel/Time Life Pictures
Ever since Vanity Fair teased "Shame and Survival," their upcoming Monica Lewinksy–penned essay, I've been giddy with anticipation — practically Christmas Eve–level glee. After the beret, the handbag line, the Jenny Craig ads, a master's degree, and what feels like a lifetime of silence, she's returned to our collective arms. Welcome back, Mon. You were my first — my preteen introduction to sex scandals — and I'll always have a special place in my heart for you.
The full article isn't available until May 8, but instead of constantly rereading her one funny Beyoncé joke until then, take a moment to enjoy this comprehensive Monica Lewinksy reading list.
1. "NEWSWEEK KILLS STORY ON WHITE HOUSE INTERN X X X X X BLOCKBUSTER REPORT," the Drudge Report, 1998: In her VF essay, Lewinsky writes: "Thanks to the Drudge Report, I was also possibly the first person whose global humiliation was driven by the Internet." Read the original item that brought a then-unknown 23-year-old intern into the forefront of a political sex circus.
2."Clinton and Women," Marjorie Williams, Vanity Fair, 1998: This great piece explores the roles of Gennifer Flowers, Paula Jones, and, of course, Lewinsky herself. And, most important, asks the question: How were feminists supposed to feel about President Clinton in 1998?
3. "I Dated Monica Lewinsky," Jake Tapper, Washington City Paper, 1998: This guy. A writer who really wanted his portion of Monica's 15 minutes felt compelled to discuss his experiences dating her. He was kind-ish, revealing that underneath the beret and blue dress was a girl next door and he was the only [fame] whore involved. (Bonus: Jessica Pressler's assessment a decade later, "Jake Tapper Is a Tool" — just in case you had any doubt that Jake Tapper was, in fact, a huge tool.)
4. "Monica, The Morning After," Ms. Magazine, 1999:  Susie Bright, Susan Jane Gilman Abiola, and Wendy Abrams wrote a series of responses to the 20/20 two-hour interview in which Barbara Walters got Mon to chat about that blue dress and stain-removal tactics.
5. "The Secret War in Starr's Office," Jeffrey Toobin, The New Yorker, 1999: A close look at how the case against President Clinton was built and then self-destructed.

6. "Monica Takes Manhattan," Vanessa Grigoriadis, New York, 2001: When you're the nation's most famous former intern, where else do you go for a fresh start and a new dating scene? Grigoriadis got the rundown on Lewinsky's second chapter in New York City.
7."Are You There God? It's Me, Monica," Caitlin Flannigan, The Atlantic, 2006: An exploration of how Monica Lewinsky reshaped society's perception of the once-exotic, now white-bread blow job.
8. "Something's Up," Scott Turow, Vanity Fair, 1999:  An exploration of how Bill Clinton reshaped society's ability to casually discuss penises.
9. "No Way to Treat a Lady," Vanity Fair, 2008,  "Saint Elizabeth and the Ego Monster," New York,  2010, and "The Scandal That Rocked Britain," Newsweek, 2013: Stories about other famous political mistresses, including D.C. Madam Deborah Jeane Palfrey, Rielle Hunter, and Christine Keeler, the 19-year-old model at the center of the Profumo affair in Britain.
10. The Entire Starr Report: When Kenneth Starr gave his report to the House on President Clinton, it was so shockingly explicit it gave people nightmares. Now it goes down easier than 50 Shades of Grey.