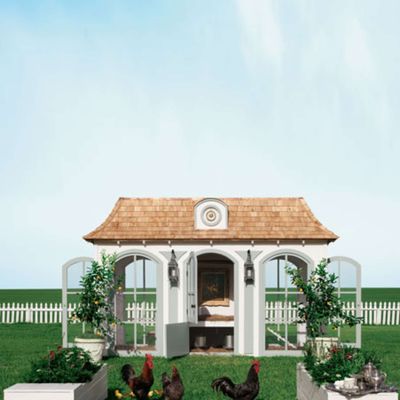 Marie Antoinette commissioned a faux farm that is remembered as a potent little symbol of out-of-touch extravagance. At the same time, it's an unquestionably adorable, idyllic diversion. Get ready to feel similarly complicated about this list of celebrities who raise chickens!
1. Gisele informed Food & Wine Magazine last week that she is raising some chickens. She loves it. Every celebrity who mentions raising chickens also loves raising these chickens, but Gisele is the first to mention chicken shit:
I have a beautiful garden in L.A. where I raise chickens. We have very little waste because the chickens eat all of the vegetable scraps, and anything they won't eat, I put in my compost pile with the chicken poo.
2. Reese Witherspoon raises chickens at her Ojai ranch, where she had her "rustic wedding," at which chicken was served, though there might be no connection. Witherspoon has previously gushed about how much she wanted a chicken coop for Christmas. As of 2010, she had 16 hens and a single rooster.
3. Julia Roberts visited Ellen DeGeneres on her birthday to tell Ellen about her chickens. "They're amazing!"  She has one named Veronica; but collectively, they respond only to "chickens."
4. Jennifer Aniston says of her chickens that she is "keeping them alive." Aniston fell into these chickens when she purchased an 8,500-square-foot Bel Air mansion, which came with a coop — oh, and also live animals, as though these were feudal times and land came with living things upon it. Anyway, she has since learned some things about them:
They're very social animals, and they like it when you visit them with a cup of coffee in your hand. And according to my groundskeeper, they love pasta.
5. Miley Cyrus rescued chickens from the set of Hannah Montana. PETA awarded her a Compassionate Citizen Award for her work. 
6. Barbra Streisand has chickens at her barn-home complex. She told Oprah that if one has a barn, one must have chickens, so she has chickens. They lay green eggs.
7. Oprah, America's champion nester, has a chicken coop at her holiday house in Hawaii.
8. Hilary Swank has truly earned her spot on this list, because she raised her chickens from eggs. One even rode around in her robe! She told Ellen all about it. 
9. Tori Spelling is extremely into her chickens. She has dressed them up, like people, and taken them to awards shows. Her chickens are called Silkies, which sounds like a fancy breed.
10 and 11. William H. Macy and Felicity Huffman have chickens. Macy, who is a "master builder," constructed their coop and said of his brood:
Now we're all in love — it's been a family affair.
12. Ellen Pompeo has chicken neighbor dramaaaa, which she too discussed with Ellen. As you can see, celebrities confessing their chicken-roosting habits is Ellen's wheelhouse. Ellen later admitted she herself takes eggs from her neighbor's "happy chickens." 
13. Elizabeth Hurley has an organic farm in Gloucestershire and a reality show about her farming ways. There are chickens involved. 
14. Debi Mazar also appears in a reality show with her husband (Extra Virgin) that stars their chickens. 
15. Rachel Weisz: keeps chickens.
16. Helen Hunt: noticed that her chickens "got bigger."
17. Of course, Martha Stewart has chickens. She has been a proud chicken owner for at least 15 years. And while we're including her on this list, it could be argued that Martha Stewart is chicken owner first, celebrity second. 
And then there are the celebrities who merely aspire to chickens. Nicole Richie once wrote she "sent my husband 7 emails this morning on why raising chickens is a great choice for us and weirdly he won't write me back …" Shirley MacLaine said, "I will get some chickens when I feel the time is right."
For whatever this is worth, Neiman Marcus sells a Versailles chicken coop for $100,000.