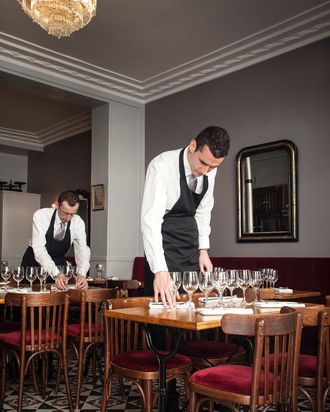 Since many Paris-bound food lovers are often on a frantic quest to try the city's latest restaurants, it's easy to forget you can still have some spectacular meals in the French capital without scoring a table at Septime or Restaurant David Toutain. Here's a little cheat sheet of under-hyped, under-the-radar places — some new, some classics — that have superb food but don't require an answered prayer or the patience of a saint to land a reservation.
1. Auberge Pyrenees Cevennes, 106 rue de la Folie Méricourt, 11th Arrondissement, (33) 01-43-57-33-78. Closed Sunday.
Since the woefully over-rated bistro L'Ami Louis will only be your ami if a well-tipped concierge greases your way through the door and price is no object, a better idea for a good sepia-toned bistro meal is this friendly, reasonably priced auberge near the Place de la République. The menu privileges the southwest of France (a seriously good cassoulet), as well as Lyon (great charcuterie and tripe dishes). The velvety Madiran, a southwestern red, is a great pick from a good wine list, and don't miss the tarte Tatin.
2. Bistrot Belhara, 23 rue Duvivier, 7th Arrondissement, (33) 01-45-51-41-77. Closed Sunday and Monday.
Okay, you just got lucky. Chef Thierry Dufroux's year-old restaurant is the perfect answer to the question, "Can you recommend a great little bistro on the Left Bank that has really good food but which isn't touristy or too expensive?" Bentwood chairs, oak tables, and a long burgundy velvet banquette make for a perfect Parisian mise en scène — think Sempé's Paris — against which to tuck into dishes like homemade foie gras with fig compote, baby squid, and cockles sautéed with Espelette pepper, veal sweetbreads with Bayonne ham, and baby potatoes and rice pudding with salted-butter caramel sauce.
3. Citrus Etoile, 6 rue Arsène Houssaye, 8th Arrondissement, (33) 01-42-89-15-51. Closed Saturday and Sunday.
It was L.A.'s loss and Paris's gain when chef Gilles Epié packed his tent and moved back to France after ten years in California. "I loved L.A.," says Epié, who starred as the chef at L'Orangerie and then at his own place, Chez Gilles, in Beverly Hills. "And California encouraged me to create a style of French food that's light, healthy, and cosmopolitan." The name of Epié's Paris restaurant sort of obtusely puns on his Franco-Californian story and style (citrus for L.A.; étoile, or star, for Paris and the name of the square surrounding the adjacent Arc de Triomphe), but his luminous and brilliantly imagined cooking — Breton crabmeat in baby pea soup with black truffles and turbot with asparagus and morels — is some of the most under-rated in the city.
4. Les Déserteurs, 46 rue Trousseau, 11th Arrondissement, (33) 01-48-06-95-85.
 Closed Sunday and Monday.
For two decades, the food world has been spanking the French as being culinary has-beens. Today, though, when it comes to Paris, this slap-happy pose is just plain wrong. Every neighborhood has dozens of talented young chefs doing excellent contemporary French cooking in serious but relaxed new restaurants for prices New Yorkers can only dream about. A perfect example is this brand-new bistro near the Bastille, where young chef Daniel Baratier does an impeccably executed and quietly original chalkboard menu that runs dishes like poached egg with baby artichokes and grilled pork belly and grouper in crab bouillon with samphire.
5. Prunier, 16 Avenue Victor Hugo, 16th Arrondissement, (33) 01-44-17-35-85. Closed on Sunday
Since new culinary trends immediately go global — like the black garlic that's everywhere this summer — food that's unique and local is more of a thrill than ever. So head for this discreetly magnificent 1925 vintage seafood house with a green mosaic façade on the posh Avenue Victor Hugo for the pleasure of being in a place you'll only find in Paris. Owned by Pierre Berger, this duplex restaurant has a raffishly elegant and impeccably lit Art Deco décor, a beau-monde clientele, and sort of amusingly courtly service from the zealously well-trained young staff. Best of all, bien sûr, is chef Eric Coisel's sublime take on traditional French seafood cooking, including dishes like oyster-and-seabass tartare with caviar, warm lobster salad, and turbot with jus de volaille. 
6. Le Saint James, 43 Avenue Bugeaud, 16th Arrondissement, (33) 01-44-05-81-81. Open for dinner only, closed on Sunday night.
Parisians love dining outdoors during the summer, and the city has a tantalizing number of secret gardens where you can be surrounded by greenery while eating your salad. One of the prettiest and most discreet places for an open-air feast is the terrace of this elegant private club cum hotel, which only opened its restaurant to the public for dinner (and brunch on Sunday) in 2011. Young chef Virginie Basselot won a well-deserved Michelin star this year for her politely sensual contemporary French cooking, including dishes like monkfish and Mont Saint Michel mussels in a light curry sauce and roast lamb with cumin-seasoned carrots and eggplant-chickpea puree.
7. Will, 75 rue Crozatier, 12th Arrondissement, (33) 01-53-17-02-44. Closed Sunday and Monday for dinner.
Young chef William Pradeleix has a major résumé. Among other kitchens, he's cooked at the St. Regis in Bora-Bora with Jean-Georges Vongerichten, the Mamounia in Marrakech, and the Connaught in London with Hélène Darroze, but what makes his pleasantly Edward Hopper–esque new bistro near the Marché Aligre, one of the best markets in Paris, such a winner is that his cooking is seriously subtle now that he's his own boss. The short chalkboard menu changes often but runs to dishes like salt-marinated salmon with shaved radishes and fava beans in a miso vinaigrette and grilled pork belly with baby artichokes. There's also a nice list of mostly organic and natural wines, and service is notably friendly for such a hip address in Paris.
Alexander Lobrano is a Paris-based food writer and author of Hungry for Paris, Second Edition and Hungry for France.