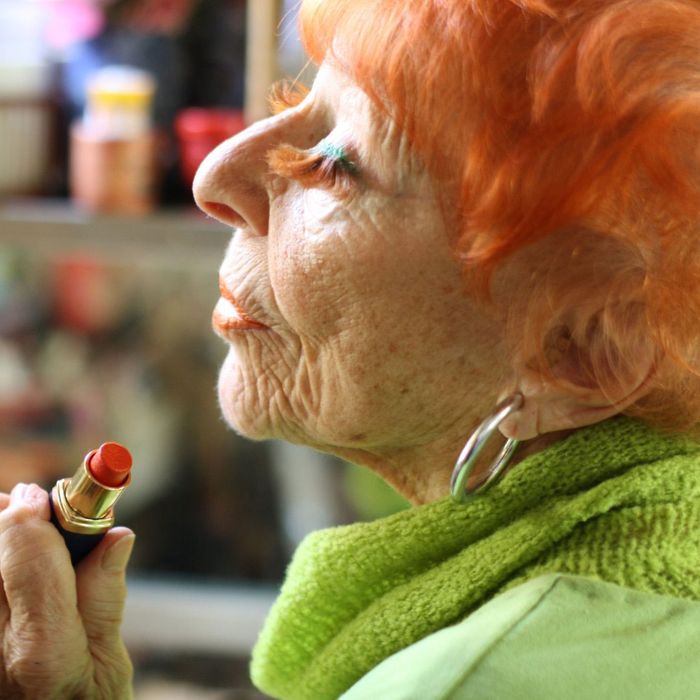 With bright-orange hair and fake eyelashes to match, 94-year-old artist and teacher Ilona Royce Smithkin commandeers the audience at the Montclair Film Festival in New Jersey with the story of how she met photographer Ari Seth Cohen.
"I was minding my own business, walking down Park Avenue in New York, and this young man comes over and says, 'May I have your photo?' I said, 'Sure, but what do you need it for?' He said, 'Well, I'm looking for women over 60 who still have life in them and dress colorful.'"
Smithkin kicks her leg up, sweeps her arm out to the side, and tilts her head back in glee as she prepares to deliver her last line.
"And I said, 'Here I am!'"
The theater erupts in laughter, and rightfully so. Smithkin is one of seven charming subjects, aged 63 to 95, featured in the documentary Advanced Style, which premiered in the U.S. on Saturday. Based on Cohen's popular street-style blog of the same name and directed by Lina Plioplyte, the film — which took over three years to complete and was financed primarily by a Kickstarter campaign — explores what it means to be a sartorially expressive woman growing older in New York. "These women really challenge our notion of getting older," Cohen says in the film. "They really embrace their age, feel good about themselves; and every time they leave the house, they look and feel their best."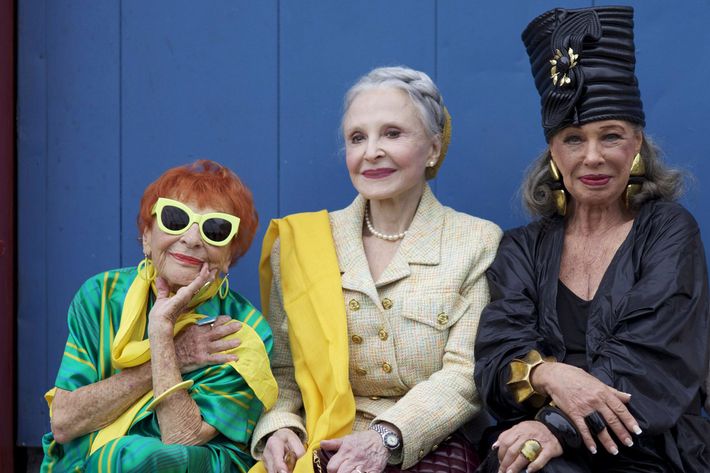 Take, for example, Tziporah Salamon, who bikes around the city at 63 without a helmet (because every outfit needs its matching hat). Or 80-year-old Joyce Carpati — who's worked at both Cosmopolitan and Good Housekeeping — and is rarely seen without her pearls or one of her many quilted Chanel bags. And then there's Debra Rapoport, who is, at 68, a DIY aficionado and one of the more creatively quirky of the bunch. (She's shown at one point in the park doing yoga wearing green-and-yellow leggings, a sequined tube top, and a plaid button-up.) "I am dressed up for the theater of my life every day," says Lynn Dell Cohen, a lively 81-year-old boutique owner.
The film is focuses on aging with style — but it's also about not putting a time limit on life. Jacquie "Tajah" Murdock, now 83, gets cast in French fashion house Lanvin's campaign during the filming of the documentary. Murdock was one of the original Apollo Theater dancers and still holds onto dreams from her teenage years. "I said when I was 18 that I want to go to Paris — well, you can turn it around and put the eight in front and the one behind," she laughs, explaining that she went to Paris for the shoot. "Eighty-one instead of 18."
But, as lively as the women in the film come across, they're also acutely aware of their own mortality. Smithkin lightheartedly jokes that she "can't buy green bananas anymore." The cast members face difficult moments in the film, such as the passing of family and friends, failing health, and the struggle to earn a living. One of the more somber moments of the film comes when 95-year-old Zelda Kaplan, a fixture of the New York fashion scene, faints and eventually dies while sitting front row during a show at Fashion Week.
"For her, everything was a celebration," Salamon says of Kaplan. "What a fabulous way to die — doing exactly what she loved to do, which is be out in public, be where it's happening — certainly it was happening at the tents during Fashion Week — looking great, being part of the world, being part of life."