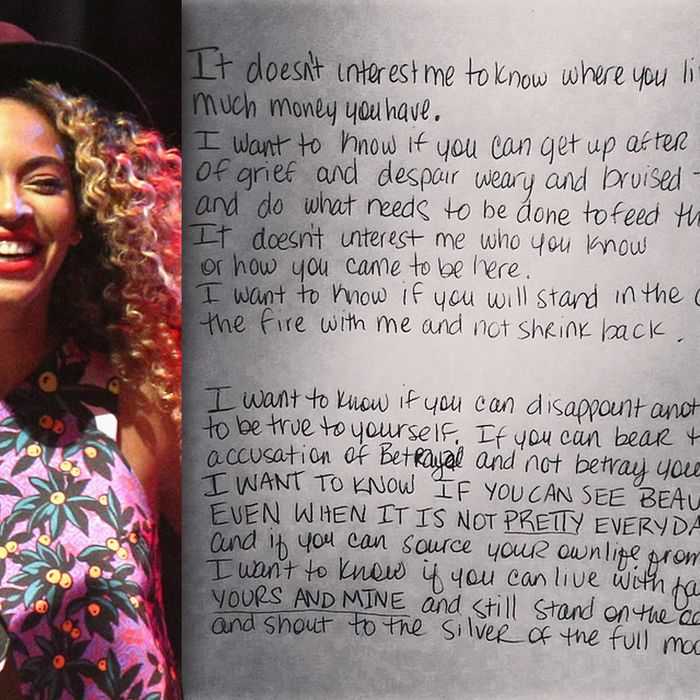 Photo: Imeh Akpanudosen/Getty Images
Beyoncé is known for her handwritten open letters. But Tuesday's posting — an Instagram four-parter featuring underlined portions, hearts, and a shaky command of the spelling of betrayal — took the habit to new emotional heights.
"I WANT TO KNOW IF YOU CAN SEE BEAUTY/EVEN WHEN IT IS NOT PRETTY EVERYDAY," she wrote, "and if you can source your own life from its presence."
The final gram revealed the source of the text to be poem by New Age author Oriah Mountain Dreamer — which makes Oriah the third spiritual guru to get a major boost from a celebrity follower in the past five weeks.
Where do celebrities find these sages? No one I know had ever heard of Oriah before Bey. Or Katherine "Conscious Uncoupling" Woodward Thomas before Gwyneth Paltrow. Or "thought leader" Marianne Williamson before the she became the Kardashian Kandidate.
Williamson, at least, is a perennial Oprah recommendation. And in the case of Thomas and Paltrow, there's an L.A.-wellness connection. "Oh fascinating," Thomas told Elle when they informed her that Paltrow had made her patented break-up method famous. Drs. Habib Sadeghi and Sherry Sami — Paltrow's mentors, quoted in the conscious uncoupling issue of Goop — are also Thomas's "holistic doctor and dentist, respectively!" Thomas said. "And they are both deep admirers of my work."
But Oriah — whose poem, "The Invitation," has been widely republished a number of small blogs — was a question mark. Was it an illuminati thing? An obscure new poet Solange was hip to?
I reached Oriah at home in Ontario, shortly after she'd been tipped off to the Beyoncé shout-out. "Thank goodness for Facebook or I'd never come across anything," she said.
Beyoncé's Instagram isn't the first strange place "The Invitation" popped up, however. Written after coming home from a party that fell on the one-year anniversary of a friend's brain aneurysm, Oriah says the poem is an expression of her desire for a deeper connection with other people. "It's based on a writing exercise by American writer David White where you repeat, 'It doesn't interest me … " and "What I want to know is … " she explained. "It's a way of going deeper than 'what do you do' and 'who do you know.'" Oriah, already a spiritual self-help author and meditation counselor, shared the poem with some 500 students on a snail-mail list in 1994. By the time Oriah got internet access, she says, it was already on over 200 websites; in 1999, it became the basis for a full-length book.
It did not surprise Oriah that Beyoncéwas a fan. "Spectacular voice. Wonderful presence. I have to say that my overall sense of her was of somebody with depth," Oriah said. "We at least all have our moments when we're looking for depth." As for the sudden willingness of celebrities to align themselves with spiritual leaders (and vice versa), Oriah believes it's a sign that the New Age has gone mainstream. "There's been a really broad exploration among people finding that the traditional religious structures don't make sense to them," she said.
Oriah has two other celebrity fans she knows of: Oprah, who once did a segment on her, and a film director — though she forgets his name. "It's not that I'm not deeply appreciative, it's just that it doesn't have much to do with my little life," Oriah said.
She added that her legal name is Oriah House; some meditation students attributed the poem to Mountain Dreamer, a name she was given by a shaman. And she understands if it inspires a certain skepticism. "I have my own twinge when I meet someone called Ophelia Morning Glory," she admitted. "And then I think that's cheeky, for Oriah Mountain Dreamer to call someone else flaky."