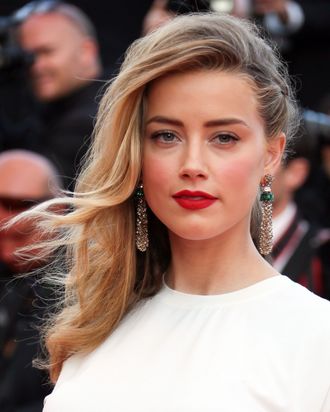 Photo: Tony Barson/Getty Images
Amber Heard is afraid of where her good looks might take her. The actress — who says that she used modeling to get out of notoriously terrible place Austin, Texas — is so paranoid about her stunning visage, she even invented a new type of zombie.
When cast in Zombieland, she told W, she asked the director, "'Do I get to play a true zombie or am I a cleavage zombie?' I had this fear that he was going to want me to be a zombie in my underwear!" He happily told her she could use all the vomit-packs she wanted.
Heard goes on to outline her experience with beautiful-person typecasting:
As a woman, I usually have two options: Sex Object or the Best Friend Who Isn't Sexy. It's not creatively fulfilling to just be sexy. I did nothing to look the way I look. The genetic cards that anyone is dealt are not in their control, so to take pride in my looks would be a mistake. And besides in L.A. there's always someone more beautiful!
To her credit, W's Lynn Hirschberg reports that Heard is gazing at her horse, Arrow, as she says that.