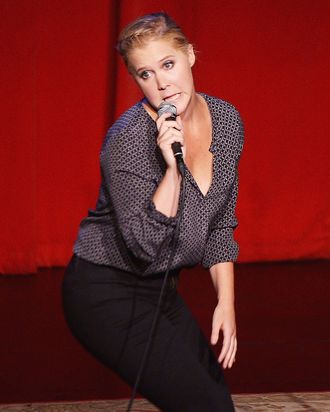 Photo: Jason Kempin/Getty Images
Amy Schumer, lovable fountain of blue jokes about sex and sexism, is working on a screenplay about a female writer at a men's magazine. So this profile of Schumer that Lauren Bans wrote for GQ worked as a bit of a two-way street: Schumer and Bans get to compare notes on the foibles of dude-centric journalism.
Bans writes that Schumer finds the the cliché of writers flirting with their female profile subjects ready for parody:
The men's-magazine setting grew out of recent experience. "I've been doing a lot of press in the last couple of years, and I knew it would be a fun place to satirize a little." Like how? "Well, there's a little bit about how, when they profile a girl, it's always right on the precipice of, like, 'We almost fucked.' Like, 'She walked in, and her nipples were just a little hard, and she ordered a whiskey because her throat hurt.' "
For reference, might we point you to this October profile of Scarlett Johansson for Esquire? Do you need a nice little tumbler of Maker's Mark on the rocks to go with that? We thought so, you pretty flirt.