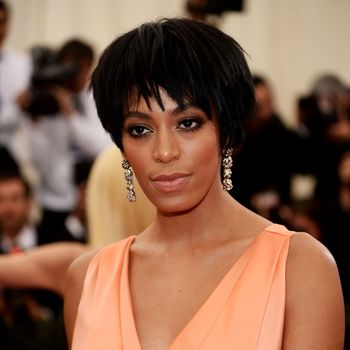 Photo: Dimitrios Kambouris/Getty Images
TMZ just released some footage of Solange trying to kick the crud out of Jay Z on the night of the Met Ball. There are so many questions: What did Jay Z say to piss her off? Was this initiation into the Knowles Family Fight Club? Maybe she was defending Beyoncé's honor, or maybe she was just expressing what we all think every time we guilt-dance to "Drunk in Love": "That Anna Mae reference is still not okay."
Since there's no audio, we may never know what Solange screamed, but can we take a moment to appreciate that she threw her punches in eveningwear? And that she likely had Spanx or some such thing on underneath?
Solange's loose, peach, midi-length Phillip Lim number meant she was freer to swing and punch than those in a corseted ball gown or, for that matter, a beaded Givenchy dress.
As for her ability to kick ass in a dainty sandal, the practical opinion seems to say: If you intend to start a fight, please change into your after-party flats. The open-toed nature of her shoes means that she is vulnerable to foot injury, should she try to bruise his shin or take him out at the ankle. However, if you've been practicing your yoga and can balance well, the rapierlike 5-inch heel could do a lot more damage. It also makes your reach longer. Notice Solange's pro trick: By using the security guard who tried to restrain her, she was able get enough leverage to deliver a scissor kick that would have required Jay Z to wear an eye patch for the rest of his life.