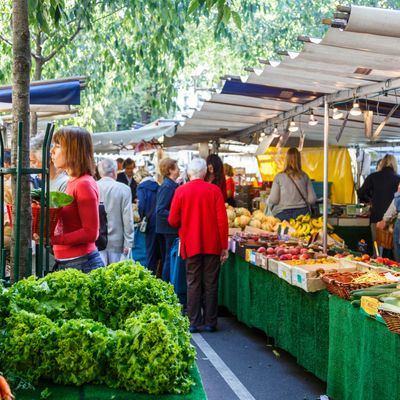 Photo: Loic Lagarde/Getty Images
While many Paris neighborhoods trade on their clichés — the bourgeois elegance of Saint-Germain, the hipper-than-hip culture of the Canal Saint-Martin — Batignolles remains harder to pin down. Located on the northern side of the 17th Arrondissement, the area was slated to be the Olympic Village for the 2012 bid that Paris failed to win. Since then, it has done some soul-searching. Devoid of major monuments, Batignolles is largely tourist-free, and though it has its share of new boutiques and hip eateries, it's not yet a destination for the city's scenesters. As such, it feels like the "real" Paris, although that's likely to change: 3,400 new residences are slated to be built in 2015. But for now, Batignolles is coming up at its own relaxed pace.
Anna Brones, founder of Foodie Underground, describes a quintessential crawl through her neighborhood.
Breakfast
Head to Acide Salon de Thé (24 rue des Moines) for the amazing almond croissants, or walk ten minutes to Le Bal Café (6 Impasse de la Défense), which has some of the best coffee in Paris. It's close to Place de Clichy and located in a cool cultural center that has regular photo exhibits.
 
Shopping
You won't see a lot of big chains in Batignolles; it's mostly independently owned clothing and design boutiques. Superflu (77 rue Legendre) calls itself a concept-store familial (a family concept store) and sells men's, women's, and children's clothing and accessories, including shoes, jewelry, and scarves. The store carries Veja, the sustainable shoe brand, and in the back, there are cool things for kids, such as notebooks and wall-poster maps of Paris that you can draw on.
 
Right next door to Superflu is Blou (77 rue Legendre), a design boutique that carries modern furniture and homewares from brands like Marimekko. They've also got a selection of men's clothing in the back.
 
29 février (29 rue Lemercier) is a really interesting space that sells women's accessories. They only have pieces from four or five designers at a time, and they're all local or have a distinctly French background. The aesthetic is very Parisian-girly.
 
Pop into Libellune (80 rue Legendre) for fair-trade pieces from around the world. They have everything from jewelry and scarves to home goods like teapots. It's your classic world store, and all the products have an ethical focus.
 
Lunch
On Saturdays, you can browse the open-air Marché Biologique des Batignolles (34 boulevard des Batignolles), which is one of Paris's two big organic markets. It's the classic French market experience, but there are even more local producers who sell their own handmade products — there's a honey guy, a cheese guy. People come from all over Paris for this market. It's a great place to pick up ingredients for a picnic.
 
Fresh Air
Martin Luther King park was initially built to be part of the potential 2012 Olympic Village, but it has recently been expanded to double its original size. It's not your postcard Parisian park. There's a skate park and basketball courts — it's full of real people living their lives.
 
Dinner
Foodies go to Coretta (151 bis rue Cardinet), a newly opened neo-bistro on the corner of MLK Park that has rare wines and dishes like smoked eel. Viola (80 rue Lemercier) is another great spot for Italian food and natural wines. My favorite is Le Garde-Robe des Batignolles (4 rue Bridaine) — I always intend to go for a glass of wine and cheese, but end up staying the whole evening. It's a really small place and the back wall is lined with wine bottles, so you can either order by the glass, or just pick your bottle off the wall. This spot specializes in cheese and charcuterie, which is cut with a hand-operated machine. The atmosphere is really relaxed and welcoming, with the sounds of real vinyl in the background.
 
Drinks
For apéros in the evening or late-night beers, grab a table at Les Puces des Batignolles (110 rue Legendre), which actually has two locations on the same block. It's full of cute antiques from the flea markets, and the vibe is really funky and relaxed. On Sunday evenings, there's live jazz music, and there's a wall that opens up completely, so the tables can spill out onto the sidewalk.