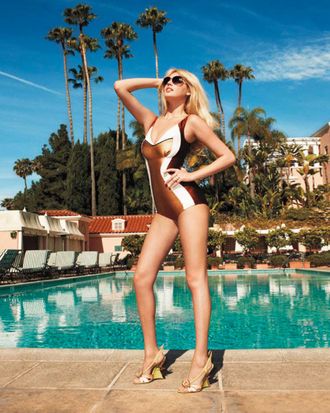 Photo: Terry Richardson/Harper's Bazaar
As she does in her free time, Kate Upton stomped about a man-made body of water in a swimsuit and high heels and dry hair. She thrust her hips, jutted her calves, pointed her elbows, lurched her chest, and stomped, stomped, stomped all around this empty pool. Everything about it was just the most natural and casual and usual thing to do.
Her right armpit was apparently what made this whole thing photo-worthy. It was so fascinating, so inordinately skinny. Harper's Bazaar captured it perfectly. One might think, Oh it cannot be that an armpit could be so skinny! But it can be. What armpit lifts and pit Pilates and underarm tucks does a girl have to do to achieve such an unattainable armpit? Tell us, Kate.
Well, worry not, readers with ordinary underarms: Observers believe there may have been a slight Photoshop intervention on the way to that armpit. Too bad we don't have a new unreasonable body goal to aspire to this summer …