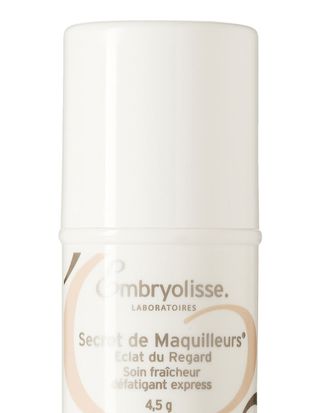 Banish the cold spoons, burn the caffeinated teabags, toss the cold cucumbers (or eat them). Here's a single product that will do away with all those alternative eye treatments.
Embryolisse is perhaps best known as the multipurpose moisturizer of choice backstage at Fashion Week — but its new Artist's Secret collection includes a Radiant Eye Treatment that has the moisturizing, soothing qualities of Embryolisse's famous Lait Crème-Concentrè, but feels preternaturally cool on the skin. Its cooling effect and mixture of aloe vera and botanical extracts don't do much for dark circles (the French do like their dark under-eye circles) but it reduces puffiness and super-charges the area with hydration. I used mine after a night of more wine than water and it was the perfect base for my eye cream, smoothing over the area so I could apply copious amounts of concealer the next morning. It's tiny, shorter than your pinky, and goes on clear making it just the thing to bring while traveling. At a recent makeup trade show, this was so popular among the makeup artists that it sold out multiple times.
Embryolisse Radiant Eye Treatment, $45 at Net-A-Porter.com.