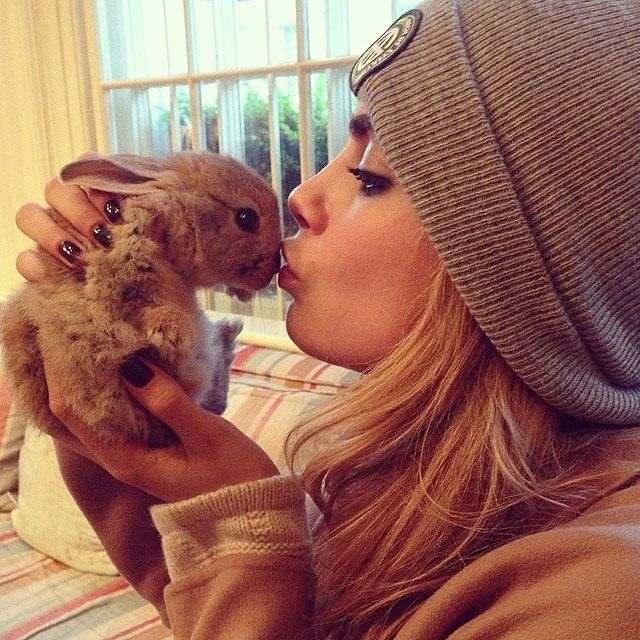 Photo: caradelevingne/Instagram.com
After less than two weeks of being owned by the model, Cara Delevingne's bunny nearly met its dramatic end. Cara took Cecil — her business partner and playful fur pile — to the Mulberry offices. While she met with executives before a photo shoot, The Daily Mail writes that her eagle-eyed rabbit was plotting an adventure in an air conditioning vent. Their source reports:
He was happily eating the celery out of the Bloody Marys and just hanging with everyone.
Sopping up some liquid courage, but in a fashion easily digestible for fluffy cottontails.
He was hopping around into everyone's lap and then Cara put him down on the floor so she could take a few pictures.
He's thought it before, and he'll think it again: Just because his best friend is a model doesn't mean he wants to be a model.
It was then that he saw his moment.
His moment for infamy! His Thelma & Louise moment! His Butch Cassidy and the Sundance Kid moment! His cliff-jumping opportunity for WEEEEEEEEEEEEEEEEE.
Before anyone could do anything he had launched his back paws and scuttled over to [the vent].
Quick as a bunny, quick as a bunny, quick as a bunny.
The last thing anyone saw was the disappearing tail.
It will be known as his signature, that flick of his tail! He will be the first rabbit jewel-thief, the first con-man bunny. His only trace will be the flash of his white rabbit tail and tales of his splendor!
He didn't get very far because he got stuck under the floor.
Oomph.
Anyway, Cecil was rescued after several floor vents were removed.