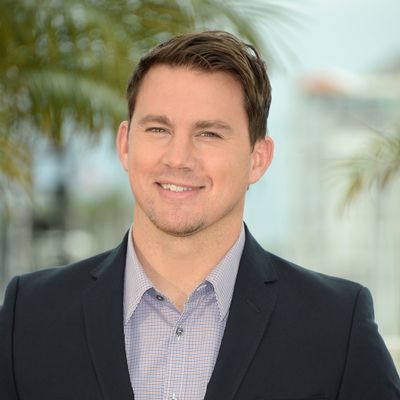 Photo: Dominique Charriau/Le Film Francais
In February, grown-up man Channing Tatum lovingly called his current lifestyle fappy, which he defined as fat and happy but is actually defined as masturbation-prone. Then–GQ writer Chris Heath broke the news to America's most innocent lamb. Tatum spouted, "No! No! Amazing!" 
For the activity portion of his GQ profile, Tatum suggested going to Color Me Mine to paint his own pottery and return to his innocence. He painted a blank coffee mug. Here's Heath's description:
The mug he paints for me has, on one side, a portrait of me that I find both charming and terrifying, and the words I AM DR. FAPPY. On the other side he has painted a heart. Inside, along the bottom and up the side wall, he has written the words I MEANT EVERY STROKE.
And all was right and all was well and Tatum paints pottery just to prove he respects your onanistic jokes.