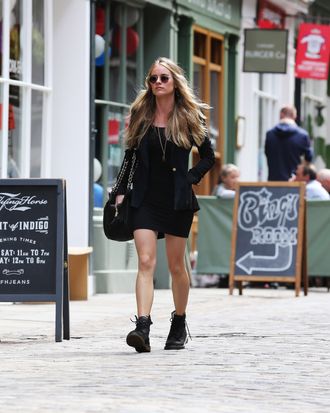 Photo: Matt Keeble/Splash News/Corbis
Recently, the storied courtship of Prince Harry and Cressida Bonas came to a close. We mourned; we speculated; we watched for updates. (One lovelorn party lay splay-legged in Miami; the other got juice in London.) What would be the best way to remember this romance — to record its vicissitudes and look back on what once was? Perhaps a list of Daily Mail captions? Why, yes, of course!
Here they are: selected and unedited. It's the recent life of Cressida Bonas, as told through the small print below photographs in the Daily Mail:
1. Party girl: Cressida pictured on holiday in a yellow bikini and a pink wig. [September 1, 2012]
2. Vibrant and arty: Cressida Bonas out on the town. [February 23, 2013]
3. The couple's relationship certainly seems to be blossoming (left) and the Prince is showering the society It girl with gifts, including the £300 rabbit fur and cowhide mukluks (right).  [February 26, 2013]
4. Dressed down: Cressida wore a pair of skinny jeans with boots, black jacket and navy blouse. [March 13, 2013]
5. Laid back journey: Cressida, 24, was dressed in comfortable blue trousers with a weekend bag slung over her shoulder, while Prince Harry, 28, appeared to be carrying a suit. [June 24, 2013]
6. Reputation: Miss Bonas has earned the nickname 'Dress Down Cress' for her relaxed approach to fashion. [July 28, 2013]
7. A handbag that shows even she gets it wrong sometimes. [August 31, 2013]
8. How was it for you? Cressida and Harry remain expressionless as they leave the theatre following a performance of the hugely popular religious satire. [October 2, 2013]
9. One of Cressida's friends told a Sunday newspaper that she had overcome fears about marrying into the Royal Family, and announced that 'Cressie is going to marry Harry.' [October 6, 2013]
10. Getting her full support: Prince Harry is Cressida's number one priority. [November 9, 2013]
11. Favourite: Prince Harry's girl Cressida Bonas is rarely seen without a scrunchie perched atop her blonde locks. [November 24, 2013]
12. Enjoying the conversation, Cressy? The 24-year-old didn't always look gripped as she listened to Harry's thoughts. [March 7, 2014]
13. New style: At one point during the show, while her boyfriend was busy elsewhere, Cressida plaited her hair. [March 7, 2014]
14. Look out, Harry! Cressida, her hair newly plaited, enjoyed a cuddle with her brother-in-law Sam Branson. [March 7, 2014]
15. Despite her funky 90s inspired double denim look, Cressida looked a little glum. [April 18, 2014]
16. Cressida Bonas looked glum as she walked in London the day after her split from Prince Harry was confirmed. [April 30, 2014]
17. Single again: The dancer kept her hands in her pockets as she went to a West End cafe to buy a fruit smoothie. [April 30, 2014]
18. Cressida looking upset and casual as she walks through West London on Friday. [May 3, 2014]
19. Tearful: Cressida was spotted looking wan at the weekend and was pictured looking tearful on Thursday. [May 3, 2014]
20. Sombre: Cressida looked pale and miserable as she strode along clutching an acid-green smoothie. [May 6, 2014]
No one can see the hopeless well of sadness behind an ordinary errand quite like the Daily Mail. For that, we are appreciative.