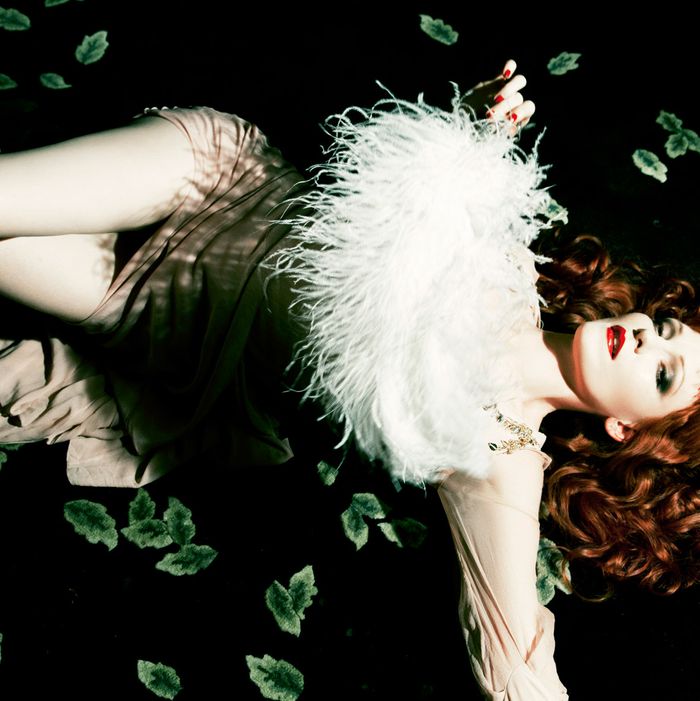 For our final entry in the French Girls Do It Better series, we've bent the rules just a touch to check in with honorary Parisienne Betony Vernon. The American-born designer, "sexual anthropologist," and author has been living part-time in Paris for the past decade. Click ahead for her thoughts on flats or heels, the best restaurant in Paris, and the one thing a true Frenchwoman would never refuse.
What suits you most about the lifestyle in Paris?
The Mediterranean pace and the Parisian love for good food, good wine, and great art — which is simply sexy.
Do you smoke?
I make an occupation out of trying not to.
What is your drink of choice?
Champagne.
Do you drink most days?
No, I drink socially for the most part. I used to drink wine with every meal, as we do in Italy and France, but I did some experimentation a few years ago and realized that I feel better when I don't. However, when I eat cheese, I can't do without red wine.
What do you have for breakfast?
Italian Moka coffee, Grapefruit juice, and yogurt or fromage blanc with fresh pomegranate—it's one of my favorite fruits.
Do you exercise?
I can't stand to go to the gym but I am a serious speed walker — I average a minimum of 35 kilometers per week. I practice yoga, as it keeps me centered even in the rockiest of moments, and I swim for an hour at least once a week. I use my bike to get around in Paris, too, but that doesn't really count as exercise; it's more like touring.  
What is the beauty product you can't live without?
SPF 40 City Block by Clinique.  
Do you have any beauty treatments you swear by?
Sleep.
Favorite restaurant in Paris?  
Le Chateaubriand.
What does a perfect Sunday look like for you?
Before the sun gets too high in the sky, I take my morning speed walk in the Jardin des Plantes, then my lover and I take a hot bath in my soaking tub built for two — essential oils, sea salt, and rose petals are a must. By 12:30 p.m., we are ready for fresh oysters sur place at the Bastille market, then we shop for flowers, fresh produce, cheese, a few prepared meat specialities, and bubbles for our Champagne brunch in my enclosed garden. After an afternoon "nap," we stroll through an exhibit at Grand Palais, the Musée d'Orsay, or the galleries in the Marais, then bike to La Pagode cinema to see a film before diner at Shu, one of my favorite Japanese restaurants in Saint Germain.
What are your five wardrobe essentials?
Alaïa shoes, Yves Saint Laurent smoking, a skinny belt, silk dresses, a black cashmere cape, and vintage stockings.
Flats or heels?
Barefoot at home, heels when I go out, and trainers when I am training, thus in disguise.
Do you save lingerie for special occasions only?
When you are built like me, every day is a special occasion.
What is the best style advice you have ever been given?
When in doubt wear a black tailleur [suit].
Do you shop by the season or whenever you feel like it?
Whenever I need something specific, except when it comes to shoes, for which I shop seasonally. I also visit the fabric stores seasonally before meeting with my seamstress to discuss new looks, repairs, and wardrobe transformations.
What is the biggest myth about Parisian women?
That they eat butter every day without getting fat.
Where do you like to spend your summer holidays?
Italy.
Is it true that Frenchmen are better lovers?  
They like to think so … but I can promise you that nationality does not determine sexual skills.
Finish this sentence: A Parisian woman would never … say no to a glass of Champagne.