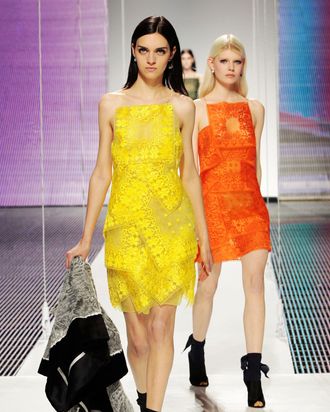 Photo: JP Yim/Getty Images
"I have been working a lot with this idea of a woman who is both very feminine and very strong," Raf Simons told the Cut before his Dior cruise show. "This, for me, is very Dior and very New York."
And the collection, which showed in the Brooklyn Navy Yard on Wednesday night, was certainly New York. Simons transported his guests from Manhattan in a Dior-branded water taxi — and, unlike showman Alexander Wang (who showed his fall collection in the same space in February), the set consisted of a white platform elevated in front of wall-to-wall windows, exposing the Manhattan skyline (with the Williamsburg Bridge outlined behind them) behind the runway. Fittingly, it was the best view of Manhattan anyone can get.
And the collection itself was feminine and modern, seemingly easy to wear in a bustling urban setting. The first four looks were sleek, head-to-toe black numbers only to be followed by fluid dresses playing on the quintessential French silk scarf. A standout mixed-media cocktail sequence comprising structured floral bodices with swinging skirts, perfect for any woman running to a gallery. Models strode out in pairs as if walking together on the city's streets. And there was, of course, a celebrity-heavy crowd, filled with everyone from Rihanna to Marion Cotillard, Maggie Gyllenhaal, and Margot Robbie, as well as former New York Times fashion critic Cathy Horyn and Proenza Schouler's Jack McCollough and Lazaro Hernandez.
Not one to forgo the house's French heritage, Simons tapped into the traditional Dior motif, as the silk scarf exploded into various gowns, dress forms, and bags. Ribbons of scarves wrapped around the latest Dior sport sandal, this time worn with long, sleek silk eveningwear (a far cry from Monday's bustling Jamesian crowd). Fur was also shown, in coat form as well as a new high-waist skirt shape worn with open-toe booties. Because, of course, when in Brooklyn.