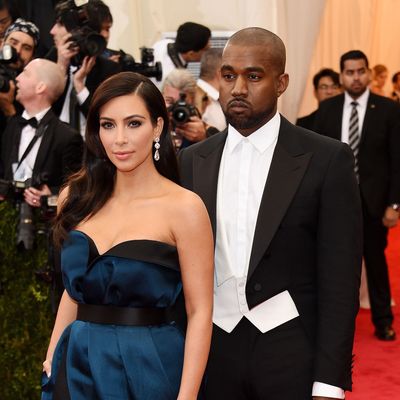 Photo: Larry Busacca/Getty Images
If you've been obbsessively following news of Kimye's wedding plans for the last six months, you might believe all sorts of things, such as the couple rented out all of Paris for their venue, or is employing a team of unicorns to carry them down the aisle, or, even crazier, neglected to invite Beyoncé to the ceremony

Put away those childish dreams, America. None of them are true. What you thought was the faint tinkle of wedding bells is actually the sound of your dreams being shattered. As the big day approaches, the blushing bride is forcing reality down our throats. Below, a handy FAQ to tell fact from fiction:
Q. I heard that Kimye got secret married in a small civil ceremony; is that true?
Q. What kind of appetizers should I serve at my viewing party for the E! Kimye Wedding Spectacular?
Q. Kim and Yeezy have so many hired friends and family members. Has their guest list reached 3,000 yet? Did Beyoncé really decline her invitation?

In fact, E! reports that only 100 people will be in attendance: "The couple had to be very selective and cut it off at no work friends no matter how close or cherished." (Define a Kim Kardashian "work friend" though?)

Q. Do I already know what Kim's dress looks like?
Q.  Is there anything in this world I can trust? Is it even real?
A.  Everything you know is a lie.