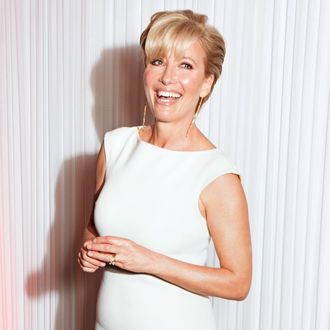 Photo: David M. Benett/Getty Images
The never-not-delightful Emma Thompson had some characteristically hilarious things to say about kids these days and their social media fixation in an interview with Vanity Fair. And according to one psychologist who studies this stuff, she's onto something. 
When asked if she'd ever join Twitter, she responded thusly:
Listen, I'd rather have root canal treatment FOR THE REST OF MY LIFE than join Twitter. That's not my scene at all. I can't bear the thought of being connected all the time. God knows what it's all doing to us. I hope that everyone does realize that we are all just one giant human experiment at the moment. We are just a great big bunch of little gerbils on wheels.
And she's not wrong, said Ohio State University communications professor Jesse Fox, who studies the weird ways we're integrating social media into our everyday lives, in an email. While there are unquestionable benefits to having access to family and friends 24/7, there really is something slightly terrifying about our participation in "one giant human experiment":
What does it mean to our sense of self when we are conditioned to expect feedback and social support and "likes" from every post we share? Knowing that people typically share a better side of themselves online, what are the outcomes of socially comparing oneself to the ideal selves of others constantly? Given the reliance on editable asynchronous communication, what does this mean for the way we interact and perceive others face-to-face? And what does it mean when we no longer find meaning in our rich life experiences unless we can post pictures about them? 
So, huh. Maybe we've just discovered another reason to adhere to the teachings of Emma Thompson. (Previous lesson: avoid uncomfortable footwear at all costs.)