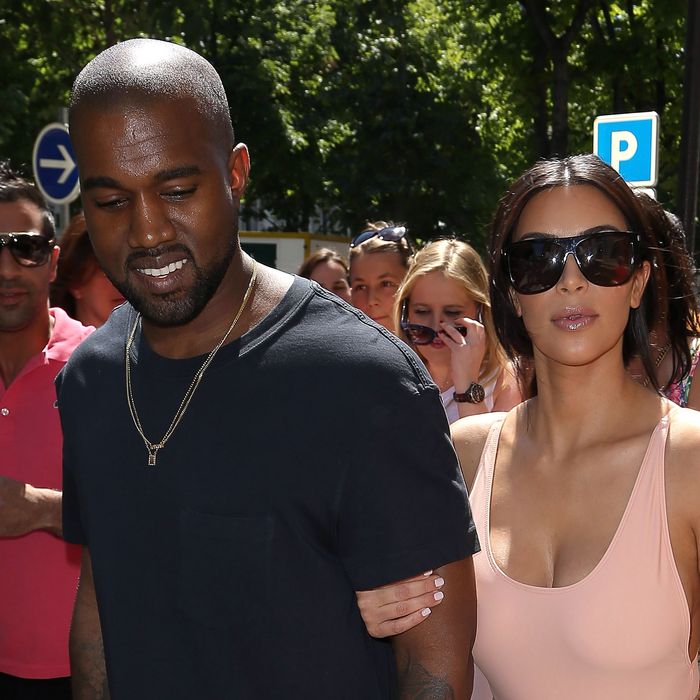 Photo: Marc Piasecki/Getty Images
The wedding kountdown is on! Kim's gotten her $500 dollar stem cell facial; the Kardashians have stormed gay Paree and are maxing out their credit cards as we speak. With only three days left until Kanye and Kim tie the knot (again? for the first time?), we're spending sleepless nights, eagerly imagining every detail of the Kimye Nuptial Bonanza. You too? Here's a roundup of the most recent wedding rumors, tabloid items, and "hard facts" to help add color and vivid detail to your Kim and Kanye wedding fantasy — at least until photos of the real thing "leak" on the internet this weekend:
Kim and Kanye employed the traditional British spelling of honour on their wedding invitation. While the "posh" spelling is believable, the cryptic invitation didn't appear to arrive in a lacquered box, accompanied by a release of live doves. So this rumor is most likely fake.
Kimye will wed in Versailles. The only place gilded enough for America's royal wedding.
Actually, the wedding is in Florence at the Forti di Belvedere. Where North was conceived.
Scratch that, the wedding is at Versailles? Where in the world is Kim and Kanye's wedding? (And/or Carmen Sandiego?)
Wait. But Versailles refuses to host Kim and Kanye's wedding! On grounds they are not "distinguished enough."
Actually, it's a pre-party in Paris, a private tour of Versailles, and private jets to the ceremony in Florence. AIghwuiGHWEGhGQ.
The bride is definitely wearing Vera Wang. Just like she did last time!
The bride is definitely not wearing Vera Wang. Just kidding!
No matter who designed it, Kim's in a panic because her dress doesn't fit. In Touch had a butt-shot of her trying to squeeze into her dress!
Well, Kanye will probably wear APC. Kustom.
While Kim's inner circle will each get a specially designed Michael Costello dress to wear. Also kustom.
Her sisters Kourtney, Khloé, Kylie, and Kendall will make up the wedding party. But Beyoncé will not. Her name starts with a B.

Kim got a $550 vegan stem cell facial ahead of the wedding. She will glow, goddammit.
And trusted makeup artist Mario Dedivanovic will do her makeup. Do you hear me? Glow.
André Leon Talley is covering the event for Vogue. To make up for that under-performing Vogue cover?
Anna Wintour will not be attending. She already gave the gift of a Vogue approval.
But the following people will attend: Ciara, Rachel Roy, Beyoncé and Jay Z, Demi Lovato, Riccardo Tisci, that Gastineau person, John Legend, La La Anthony, Jonathan Cheban, Larsa Pippen (former Real Housewife of Miami), and wild card Steve Wozniak.
Each guest will have personal security and a new, Kimye-approved cell phone. Con: Instagram and Twitter will be blocked. Pro: Preloaded with Kim's belfies.
Lana Del Rey will perform "Young and Beautiful" at the wedding. A tragic, ageist soundtrack to their first dance as wife and husband.
Kanye will not rap his vows. He will just recite "Bound 2."