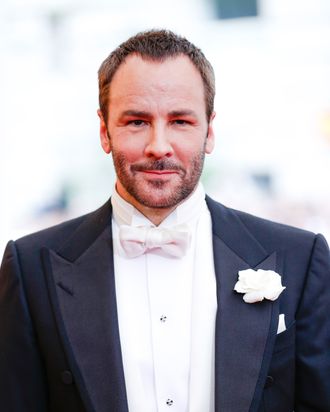 Photo: Julian Mackler/BFAnyc.com/BFA NYC
Suzy who? Vanessa what? In an interview with Style.com's Tim Blanks, Tom Ford reflects on his CFDA Lifetime Achievement Award honors and says he doesn't think fashion reviews mean anything anymore.
Something new is happening that I'm just clueing into now—this probably won't go down well—but customers don't care any more about reviews or hard-copy publications. They care what picture Rihanna just Instagrammed while she's naked in bed, what new shoes she has on, how she's talking about them. That's what they respond to.
Ford — who clearly isn't aware that we've been mourning the death of @badgalriri for weeks — has juggled conflicting attitudes toward social media over the past several years, banning cell phones from his shows and then capitulating to the status quo three seasons ago, even including an eminently Instagrammable Jay Z–themed jersey in his last show. For the next Tom Ford campaign, how about a nude Rihanna shot with a nice Sierra filter?