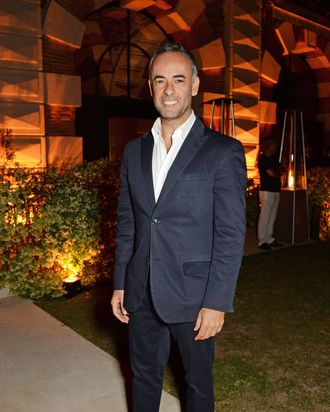 Photo: David M. Benett/Getty Images
It's hard to complain about the annual Calvin Klein/IFP Women in Film party, which is always one of the first and most tasteful events of the Cannes Film Festival. The moon was full on Thursday night and one could see the entire city, and the Mediterranean, from the backyard of the venue — a hillside villa with its own indoor grotto and waterfall. Guests drank Champagne and ate caviar, both straight from a spoon and with a shot of vodka, or from delicious passed Bellinis. British singer Jessie Ware sang a memorable, languid cover of Rihanna's "Diamonds" in a vine-covered gazebo overlooking a crystal-blue infinity pool strewn with real orchids.
CK loyalist Lupita Nyong'o, in a shimmering blue strapless dress, sat front row. She'd heard about Ware from Michelle Dockery, with whom Nyong'o shares a stylist. There were also other brand loyalists present, including Naomi Watts and Julianne Moore in blush tones, and Rooney Mara in white fringe. The Cut spoke with Calvin Klein designer Francisco Costa about his process for putting the right dress on the right star, curing jet lag with a little wine — and, of course, Speedos.
How personally involved do you get in what each girl is wearing?
Well, how [much] more personal can you get once you design their clothes?
Do you go up to Rooney Mara and Lupita and say, I know this will look fabulous on you?
Listen, I send out five options. Sometimes they may fit, sometimes they may not. Most of the time [with Lupita], I have been in the fittings. Yeah, I'm definitely in there as much as I can. You know, we talk. They always have something to say. Their agents have something to say, their stylists have something to say. We have something to say.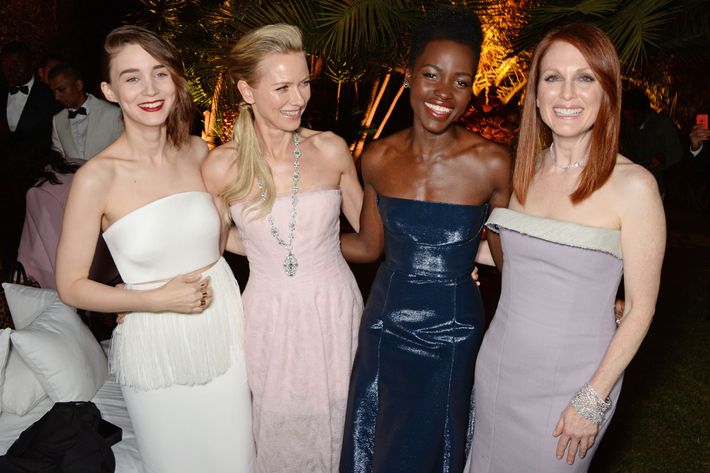 With Lupita, what do you send to her that you don't send to someone else?
I don't know. I just find that she's so eclectic, you know? I mean, she kind of like has all this beauty about her. She's athletic, her body's ridiculous. So the first time I dressed her, I really wanted to make a statement, you know, and put her in something that accentuates that. She's heaven. 
What do you think about the flak she got for her Prada dress at the Met Ball?
I think it's fantastic that she did that. You know what it is? Because we get used to some sort of thing, you know? And then the mind stops thinking that there's life somewhere else. It's fun, why not? Let's have fun! And it's also very much in tune with what Miuccia's doing, because Miuccia's having so much fun lately. I think she's great. I probably wouldn't dress her like that because it's not my aesthetic, but I think she's fantastic. I think she can pull off anything she wants.
Which French actress do you think is the most stylish?
Catherine Deneuve, still. I think she still holds the flag for French style and beauty. When I think of her, I think of Saint Laurent, and I love to think of Saint Laurent just because to me he's a genius. I think to me she still holds the torch.
Is there a past French actress you look to for style?
I think Deneuve is amazing in any era. My references that I grew up [with], when you think of Film Noir, it's so French, that whole spirit. I think that time was very exciting for French films, so I drift to that time. It's beyond iconic. It sounds so silly to say that. It's like saying Lauren Hutton, but hey, those women still hold on very strongly, you know. It's not just beauty or anything. It's a certain strength that's hard to acquire. For instance, you find that with Rooney Mara. You'll think of Rooney Mara ten years from now as someone who really made a mark because she has that strength. She has that quality personally but also on the screen, so it's fun.
What do you make sure to do in Cannes whenever you're here?
Listen, very honestly, I come here so fast, my trips are so in and out. I arrived this morning under a great commotion at the airport with the strike. All the taxi drivers are revolting against the private taxi drivers that come from all over and take their business. And those are unauthorized people. They don't pay taxes. Anyways, they locked all of the entrances and exits to the airport today. So nobody could get out if you had your private car. So basically I got out of the car with my luggage, which was just a little bag, and I joined them on the demonstration and asked for a cab.
You asked for a picket sign?
No, but I stayed there for two hours. I mean, what am I gonna do? So I kind of joined them. I said, "Guys, I need a car. I need a taxi. I need to get to the city." They didn't want to work at all. They didn't want to take anyone. But finally they called somebody from somewhere, and this other woman, actually, had joined me on the stand, and we came together.
But Cannes is amazing. The South of France is gorgeous. My first time in Cannes, probably 15 or 20 years ago, I remember spending time. I came here for like two days. And I did the beach. It was a different thing, though.
Do you wear a Speedo?
Of course I do! I'm Brazilian!
What do you do to red eyes to look great when you're tired?
For some reason I don't do anything, but I came to the hotel, it was like 3:30, and I had lunch, I had a glass of wine, and I took a nap.
The wine is crucial?
Yeah, it took the edge off. It definitely took the edge off. It was perfect.
What style secrets have you learned from the French?
I think their underwear. With women, I think they indulge. You think of French women, and there's a sexuality to it and there's this mystery in what they're wearing under it, which I find quite inspiring.
You think they buy more expensive underwear, or it's better structured?
No, I don't think it has anything to do with that. It's just a fetish of buying their underwear and putting it on. The thing. And it's very much what we [Calvin Klein] do, so for us, like, our underwear is it. So I think the French also indulge in that sensibility.
It's similar to Calvin Klein's underwear sensibility?
Yeah, if you think of Christy Turlington and all the gorgeous ads of underwear, it's that thing, you know, that I think is great. But I think the French woman, also, she's fragranced, and it's a nice thing. She smells great and she has this amazing confidence that starts with her underwear.