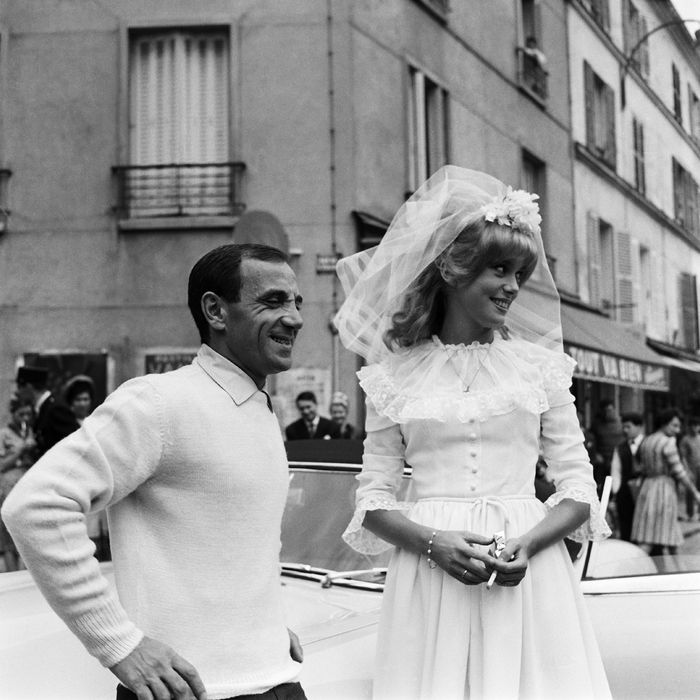 Photo: Keystone-France/Corbis
Eimear Lynch, who interviewed 80 women for her new book, The Bridesmaids: True Tales of Love, Envy, Loyalty, and Terrible Dresses, talks to one with some firsthand French-wedding experience. The following is the experience of Keriann, 28.
French women don't have bridesmaids; they have witnesses. And they would never post their engagement rings on Facebook. The bridezilla exists in every culture, of course, but in France she's a rare breed. At French weddings, the bride is not the center of attention. Instead, the focus is on the two families coming together.

I'm an American who has lived in Paris for seven years. I've been a bridesmaid in two weddings in the U.S. and two in France, and my most archetypal French experience was being in the wedding of my former roommate, Fabien. I was technically a witness for him, but since I'm a girl and attended the bachelorette party, I was kind of like a bridesmaid for his now-wife, Virginie.

From the get-go, French weddings tend to be less gendered.
When the girl gets her ring, she typically gives the groom a nice watch. The bride and groom each have a mix of male and female witnesses; there's a thing called a fiançailles — a sort of engagement party when the two families spend a night or weekend getting to know one another — that celebrates both of them; and the groom and male witnesses actually participate in the wedding planning. Another nice thing? In France, there's no such thing as a bridesmaid's dress. While all the male witnesses typically wear the same sort of suit, the bridesmaids usually wear whatever they want.

But the French-American wedding differences start even earlier than that — from the moment a couple goes on their first date. That's because "dating" as we know it in the U.S. doesn't really exist in Paris. The second you sit down to a drink with someone, you're in a relationship. There's no playing the field, and there's no "Wait, are we dating?" conversation. People break up or get serious. And while relationships might progress quickly, engagements often last for years.

In France, the very act of getting engaged takes forever. The man asks the woman's father for her hand, and he then proposes with a ring. In America, this would be followed by phone calls and a Facebook post, but here the couple keeps the engagement secret until they can tell their families in person. Once that's done, they bring Champagne to small gatherings of friends and announce the engagement little by little. Next comes the meeting of the families, or fiançailles, and only if that goes well is the engagement official: The bride is finally able to wear her ring. A couple can then have another fiançailles with their witnesses and friends. We threw one for Fabien and Virginie at someone's country house. And in France, it's not a party if it doesn't have a theme. At this particular fiançailles, everyone had to wear stripes.

The men and women do split up for the bachelor and bachelorette parties. The tradition is to kidnap the bride, whisk her away for the weekend, and make her dress up and perform embarrassing dares in public. I've seen brides dressed like everything from barmaids to chickens. And they're dared to do things like try to get kisses from strangers. We didn't subject Virginie to that. Instead, we spent the weekend in the south of France at another witness's beach house, where we did normal bridesmaid things like quiz her on Fabien and make her take shots when she got the wrong answers.

The weddings themselves are weekend-long affairs. That's in part because in France, only civil marriages are legally binding. So lots of couples have two ceremonies: one legal, one religious. Fabien and Virginie's wedding, for instance, consisted of a Friday-night civil wedding; a religious ceremony, cocktail party, dinner, and reception on Saturday; and a big lunch on Sunday.

The weekend was completely beautiful, with festivities revolving around an old farmhouse overlooking a vineyard on Virginie's family château in Bordeaux. About 300 people attended, which is average; a 100-person wedding is considered very small. All of us witnesses went a week early and helped the bride and groom ready the farmhouse. We took down cobwebs, repainted all the shutters, and laid gravel in the driveway. We even found a pizza truck that agreed to drive out to the remote château to serve Sunday lunch. It's traditional for the bride and groom to make gifts for every guest, so we helped them prepare jam and homemade rum punch, and then tied little tickets on each of the 600 jars and bottles. The worst part was doing the seating: It took forever to figure out the arrangements.

As you can tell, the wedding was tasteful but also pretty DIY. I think that has to do with the fact that the French like to hide their money. They are so sensitive to showing off that wealthy people drive shit cars and hide their homes behind huge bushes. American weddings might be more ornate [Editor's note: As might the weddings of some Americans in France — or, you know, Italy.], but French weddings have better food and last longer. I'd say they cost about the same, because while American-wedding budgets include things like chair covers, French couples spend money on food and drink for hundreds of guests — and on keeping the DJ going until 7 a.m. I recently went to a wedding in California that ended at midnight. I was shocked! The dancing doesn't even start until after midnight in France.

I think Americans would also be surprised by the irreverence of French weddings; they defy cultural stereotypes. When the couple makes their entrance at dinner, everyone stands on their chairs and throws their napkins in the air. Dinner can last for hours as families and witnesses poke fun at the bride and groom through dozens of silly videos, speeches, slideshows, and sketch-comedy routines. When the dancing finally starts, the music ranges from traditional to cheesy (think: "It's Raining Men"). Registries aren't as common here, either: The French wouldn't feel comfortable asking for a particular gifts, so almost everyone gives the newlyweds cash.

To me, the biggest difference between bridesmaid-ing in France and America is that French 'maids aren't passive-aggressive. There's still drama — I argued with other witnesses about the engagement gift and bachelorette-party locale — but French women tend to be very direct. It's such a relief!

There are certainly drawbacks to French wedding traditions: The long engagement can be trying, and not everyone enjoys a seven-hour dinner. But still, when I get married I think I'll go the French route. I like the sound of a Parisian wedding, one that would be less about my dress and hair and more about family and friends coming together over lots and lots of Champagne.