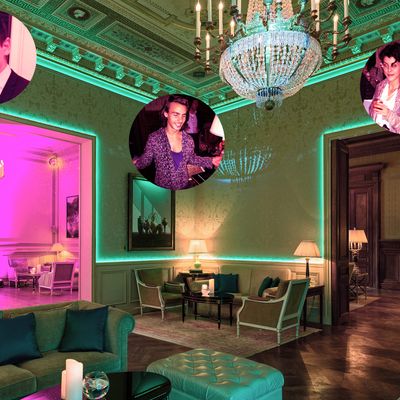 Photo: Romeo Balancourt Paris Photography/Courtesy of Hotel Shangri-la
Room service. Le Tinder. The Tender Bar. Bed. That was the agenda for my one night off in Paris — last Wednesday — where I was staying at the ultra-luxe Shangri-La, feeling very lucky, a little bit lonely, and extremely sleepy. But as the gods of put-on-your-YSL-lipstick-and-get-out-the-door would have it, Wednesday night at Shangri-La Hotel is the night to party. It's the night Vladimir Simic of La Bande Organisée hosts "the coolest soiree in town," according to well-connected Parisian friends (and Patti Smith). I had work to do and Veep to stream, but I consulted with my inner bon vivant, who said it was my moral obligation as a "lifestyle reporter" to throw on a silk cami, sail down the stairs, and soak up some life. Sold.
At 11 p.m., the Shangri-La lounge was as French Vogue as I imagined it would be. Girls in gold Chanel sequined pencil skirts paired with bulky Adidas sweatshirts, boys in tight Sandro suits and Michael Jackson shoes. Like a softcore porn of short bangs, Champagne, and Guerlain, the room was impossibly chic and undeniably awesome. In between making sexually ambiguous new friends (this is my issue with French men) and obsessively asking if anyone was a Roitfeld, here are a few things I learned as Wednesday night turned to Thursday morning at the Shangri-La.
1. F— cocktails; the French ONLY want Champagne.
"We only drink Champagne because it doesn't make us fat and it won't stain our clothes," declared Laurent Richard, 34, a "100 percent true Parisian." One sweet girl brought me something "much more exotic." It was, oh, look, Champagne. With a splash of Campari.
2. No one goes to parties alone.
"If you're sitting alone, people think you have AIDS," said a Frenchie whose name I am choosing to protect because I think/hope something was lost in translation. I asked Laurent Richard what this person meant by that. "You look like a freak if you're alone at a party here. No one wants to talk to you. That's why Vladimir is so great, he introduces you to everyone, and soon it's a big family … and you never have to sit alone again."
3. French girls don't get wasted.
"Of course we are sometimes a bit tipsy, but it's not like London where party girls get carried out of clubs," says the lovely and demure Marie Geffroy, 28. If someone is getting too drunk, her friends will quietly put her in a cab. If she's talking to a man and she's wasted, he will be chivalrous and get her home [to] safety … usually."
4. Pretty French people want to party in pretty French places.
"When we're in a room like this, we are aware of the art around us; the antiques, the marble, crystal chandeliers," purred Julia D., 28. "We discuss the art and history of each building; we show respect; we don't just put our drink down anywhere."
5. As we already know, everyone is going to have sex, and it's completely inconsequential.
"Many people in this room have had sex with each other, last week, maybe last night; and then they see each other again at the party and it's no big deal; no drama. It's about enjoying the party, not analyzing who's had sex or going to have sex. We really don't care."
6. The granddaughter of [insert any noble, royal, or shah here] will be there.
"That was the granddaughter of the Shah of Iran," beamed Laurent, whose grandfather was legal adviser to the king of Siam.
7. Hard drugs are for boats or rooftops, not royal palaces turned five-star hotels.
"At this particular party, we feel we're in someone's home," says one jumpy party girl. "So we only drink here … maybe a little more." However, "all the Parisians partying on boats or roofs are on MDMA — all of them."
8. If you're not dancing, you're boring.
The kiss of death at any French party is to "not move your shoes!" says 20-something Stuart Bommes, in his bare chest and patent-leather Repettos. "If you're standing still, it's like, really depressing,"
9. If you try to look chic at a party, you're not.
"Style is all in the attitude," says Julia DeMarque. "My hair is not clean and I don't care about it. But … maybe I have something nice coming from within, and maybe that's why you think I'm chic."  Touché, mademoiselle, touché.