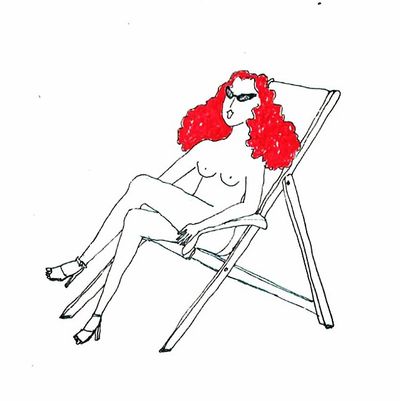 Grace Coddington posted an inaugural Instagram to her dormant account on Friday: a nude cartoon of herself reclining in a beach chair, the promotional image for her Paddle8 "No Clothes" auction. By Friday evening, she had thousands of new followers — but by Saturday, her account had been removed for violation of Instagram's no-nudity clause.
Almost immediately, fans sprung to action — petitioning for Coddington's return.
By Monday, the account had been restored without explanation. A rep for Instagram told us: "When our team processes reports from other members of the Instagram community, we occasionally make a mistake. In this case, we wrongly removed content and worked to rectify the error as soon as we were notified. We apologize for any convenience."
To follow it up today, Coddington posted a drawing of her own two cats, one whose privates are censored with a black bar. "Good grief Pumpkin, Mother drew a nude selfie for her very first Instagram," the caption reads. "No wonder they shut her down……she is much fatter than that." Coddington = 1, Instagram = 0.