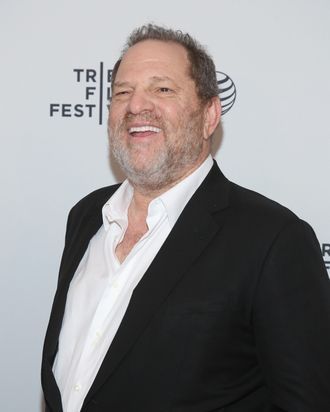 Photo: Rob Kim/2014 Getty Images
Someone was certainly inspired by last night's Charles James–themed Met Gala. Harvey Weinstein is, according to a "Page Six" report, planning to make a deal with James's children to license the legendary designer's name. A source told "Page Six" that Weinstein has plans to "create an exclusive couture house" as well as a fragrance.
Weinstein has, of course, made a similar foray with Halston in 2007, when he enlisted Sarah Jessica Parker, Marios Schwab, and Rachel Zoe to assist with a reboot of the brand, eventually cashing out his investment in 2011. However, the source points out that this would be a different scenario, because Weinstein is looking to partner solely with James's descendants (as opposed to having many investors in the brand), which would allow him to exert more control over decision making. Second time's a charm?
According to the item, Weinstein's wife, Marchesa designer Georgina Chapman, will be a creative consultant for the brand. We've reached out to a rep for Chapman and will update this when we hear back.