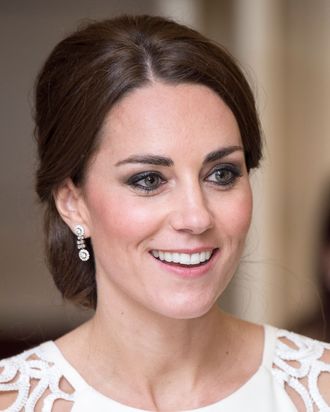 Hilary Mantel, razor-sharp observer of royals past and present, wrote a baller essay about these special beings for the London Review of Books in early 2013. Among a bounty of other things, Mantel criticized the reductive uterus-obsession the media has with royal women. But it was her seeming criticism of a pretty princess that caused a small tabloid riot.
Mantel just told Sky News that everyone's freak-out just showed their provincialism:
What the fuss last year made me think was how narrow and how intolerant as a nation we have become because even if I had said about Kate the things I was alleged to have said, that was my perfect right. There was no occasion to jump on me and revile me. I would say it all over again, and I stand by what I said.
You took her out of context, but, yeah, she'll repeat it. She'll repeat it, and she'll stand next to it, and she'll say what she thinks until those cows come home.
Anyway, her book of short stories about Margaret Thatcher is coming out in September, so horses just have to be held until the end of summer.