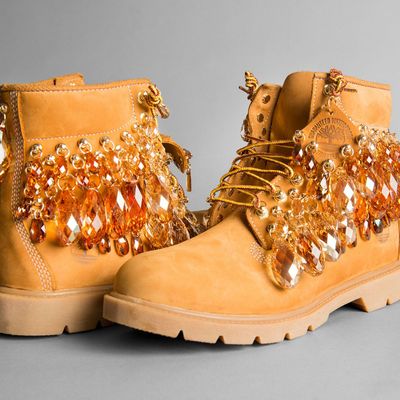 Photo: Courtesy of Swarovski
Looking through the objets the CFDA-nominated designers are auctioning off as part of Swarovski's Lucky 13 anniversary celebration, you'll find a number of items of dubious utility: Irene Neuwirth's crystallized skateboard deck, Wes Gordon's bronze bird sculpture, a bedazzled '70s record player from Creatures of the Wind.But the pièce de résistance has to be this pair of crystal-draped Timbs, courtesy of Hood by Air mastermind Shayne Oliver. With their sturdy lug sole and blinged-out exterior, they can take you everywhere from digging a well on a glamping excursion to the ground-breaking of a luxury hotel. But what was the inspiration behind these delightful Franken-shoes?
"I received my first pair of Timberland boots at the age of 13. I still wear them to this day and believe they have stood as a good-luck charm for me in my fashion trajectory," explains Oliver — who's no stranger to bonkers hybrids like earrings/headphones, do-rags/hair extensions, and combat boots/waders. Nice to know he's catering to the glam carpenter in us all.