Inside the Met Costume Institute's New Charles James Exhibit, 'Beyond Fashion'
Photo: Michael Loccisano/Getty Images
The Temple of Dendur. The strains of Vivaldi's "Four Seasons." Every one-name-only designer, from Ralph to Oscar to Donatella (plus Stella, Calvin, and Marc) in attendance. Sarah Jessica Parker, the Olsens, and Victoria Beckham in the front row. This morning's opening of the Anna Wintour Costume Center at the Metropolitan Museum of Art, in advance of the Center's first exhibit, "Charles James: Beyond Fashion," felt like a very appropriate appetizer to tonight's Met Gala.
None other than First Lady Michelle Obama, in a Naeem Khan dress printed with leaves, showed up to cut the ribbon at the event (thus, the presence of earpiece-wearing Secret Service agents dotting the room). In a speech, she paid tribute to "my friend Anna Wintour," adding,"I'm so impressed by Anna's contributions not just to fashion but to this great museum. This center is for anyone who cares about fashion and how it impacts our culture and our history." She also announced that the two will be partnering on a White House fashion workshop for students. After all, she reminded the assembled, "Fashion isn't an exclusive club," though with so many high-profile names in the room, it certainly felt like one.
Afterward, the assembled gathered to marvel at a massive re-creation of a James gown made with thousands of fresh flowers in the atrium of the museum, which will greet guests as they enter the Met Gala tonight. After a brief wrong turn to find the exhibit, the Cut was lucky enough to be detained with Michael Kors, Hamish Bowles, Zac Posen, Mario Testino, and several others in the museum's basement for 15 minutes. After Kors blamed the mistake on collective ADD and began jokingly outlining a sitcom based on the entire event, the group found its way into the preview for the James retrospective.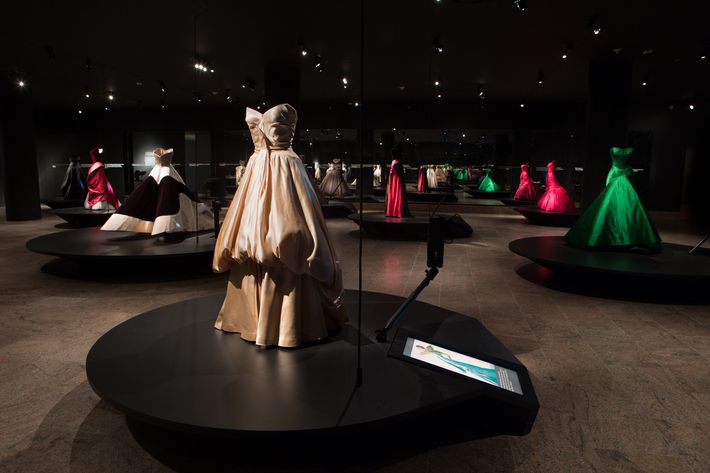 Inside the exhibit, cameras scanned the gowns, showing X-ray-like visions onscreen — essential for understanding a designer like James, whose artistry had as much to do with the construction of his looks as their impressive exteriors. Highlights included a circa-1930s eiderdown evening jacket — the forerunner of today's omnipresent puffers — and intricate dresses like the Ribbon Gown, made from rainbow-colored ribbons, and the Clover Gown, with its distinctive four-sided skirt. Even pieces from James's early career as a milliner are on display.
The show is simpler and quieter than previous offerings like "Impossible Conversations," 2012's Prada/Schiaparelli mash-up, or the 2011 Alexander McQueen retrospective "Savage Beauty." While it doesn't have video or showy installation elements, it very much rewards close study, and will give visitors insight into just how much obsessive craftsmanship went into each piece. In his opening remarks, Costume Institute curator Harold Koda mentioned that, for James, "Even the most resolved idea was always a work in progress. It was Diana Vreeland who said that James would rather keep working on a gown than have to see it going to a party." Thankfully, his handiwork is getting its moment out on the town tonight.