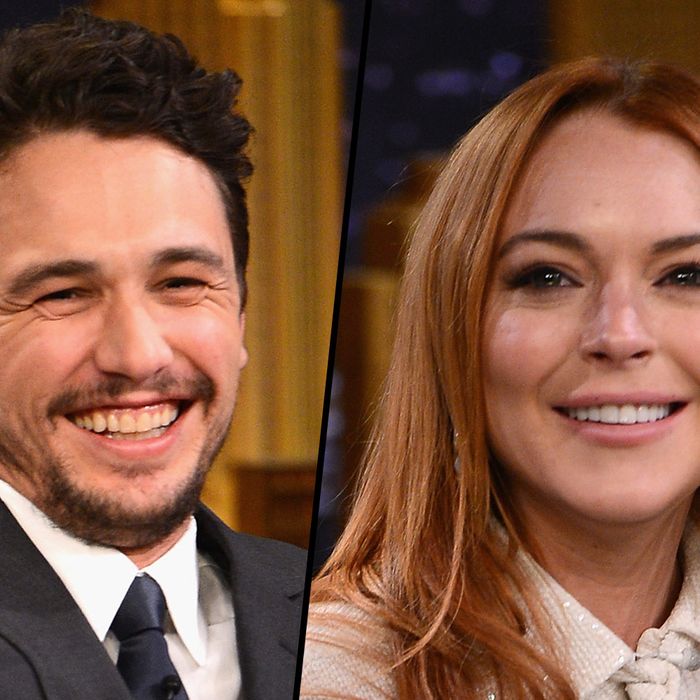 Photo: Theo Wargo/NBC/Getty Images
Both James Franco and Lindsay Lohan possess an ability to present their lives as conspicuous carousels of antics. There they go! And there they go again! And one more time, looping back. Even if you keep your eyes shut and hum, you can't miss them! And again. Perhaps this was something James Franco and Lindsay Lohan discussed on the night they allegedly had sex.
The chief evidence of their sex-having is a handwritten list by Lohan herself, in which she enumerates all of her conquests as a sobriety activity. She recently confirmed the list's veracity. Franco, who seems to relish in a good rumor about himself, is unhappy to appear on the list. While some of the hook-ups simply made incredible facial expressions upon learning of the list, Franco went on Howard Stern to deny, deny, deny:
I never had sex with Lindsay Lohan. I will swear on my mother's life that I never had sex with her. We were at this hotel during a very dark period of her history … and it seemed pretty damn clear that she liked me. She'd come out to the pool area and find me … She even broke into my room one time … I open my eyes and there's Lindsay in my room at 3 a.m.
He did admit that they "made out" once, but it was "lame." Glad the vocabulary of Freaks and Geeks still holds strong in this one's heart.