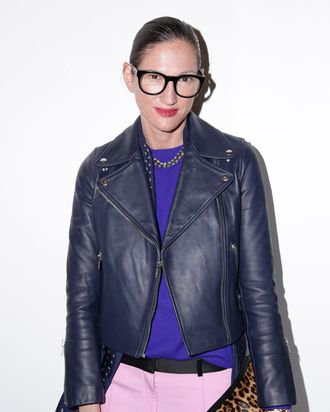 Photo: Matteo Prandoni/BFAnyc.com
If there was any doubt that J.Crew listens to its customers (hey, its CEO even personally calls customers to respond to their complaints) the news that the store is now launching a lower-priced arm should clear things up. The Wall Street Journal reports today that the store now owns the brand name J.Crew Mercantile and is looking at potential locations. Specifics are still forthcoming, but a source tells the Journal that the collection will be priced around the same as the brand's J.Crew factory outlets, where most items fall under the $100 mark.

As the label has become increasingly upscale — with many of its Collection pieces running in the high three figures — some have wondered if it's alienated its core customer. After all, a $750 leather sweatpant is a tough sell. (Opening Madewell, a lower-priced chain aimed at a younger demographic, and bumping up the number of sales and offering coupons for J.Crew stores have been two methods of counterbalancing that problem.) But when it's competing against less expensive chains such as Gap, Zara, and Club Monaco, it makes sense that J.Crew might offer an alternative for price-conscious shoppers (which, these days, is pretty much everybody.) Just wait until #1 fan Michelle Obama hears about this.