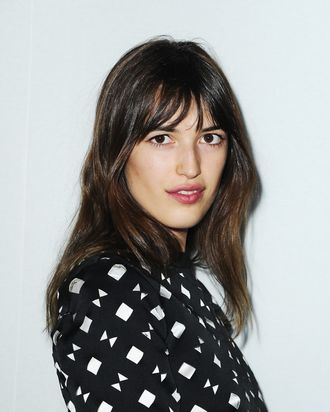 Photo: Pascal Le Segretain/Getty Images
Picking up where we left off with Caroline de Maigret, this week's edition of "French Girls Do it Better" finds us checking in with model, style blogger, and sometime actress Jeanne Damas, often referred to as France's answer to Alexa Chung. Click ahead for the French "It" girl's thoughts on drinking, denim, and the horror of flip-flops.
What suits you most about the lifestyle in Paris?
I like to take my time, and Parisians love to take their time — sleeping in, enjoying sunlit terraces, having long dinners …
Do you smoke?
Only on the weekends.
Drink of choice?
Wine, but I try not to drink every day. It's more difficult during summer — there's nothing better than a nice glass of wine on a terrace.
What do you have for breakfast?
A coffee.
Do you exercise?
I do two sessions a week with a personal trainer, and I love jogging.
What is the one beauty product you can't live without?
Red lipstick.
What beauty treatments do you swear by?
I use a Clarins sunscreen every day, even in winter; it's the secret to keeping beautiful skin even as you get older.
Favorite restaurant in Paris?
Chez Philou — my dad's restaurant with simple French food and natural wines — or Le Roseval.
What are your five wardrobe essentials?
Blue jeans, a white shirt, high-wasted pants, a wrap dress, and high heels.
Flats or heels?
Heels! I like Sergio Rossi, Christian Louboutin, Dior, and Gucci.
Lingerie — for every day or special occasions only?
I am the face of my friend Yasmine Eslami's lingerie brand, so I have an entire collection of her lingerie.
What is the best style advice you have ever been given?
I dress to feel comfortable and beautiful, not to be fashionable.
What items have you bought/will you be buying from the summer collections?
The beautiful espadrilles at Valentino, Gucci sandals, summer dresses at APC, and Stella McCartney shirts.
Where do you like to spend your summer holidays?
In my family's house on Île de Ré.
Is it true that Frenchmen are better lovers?
My boyfriend is Italian, so I would say no.
Finish this sentence: A Parisian woman would never …
Wear flip-flops in the city!