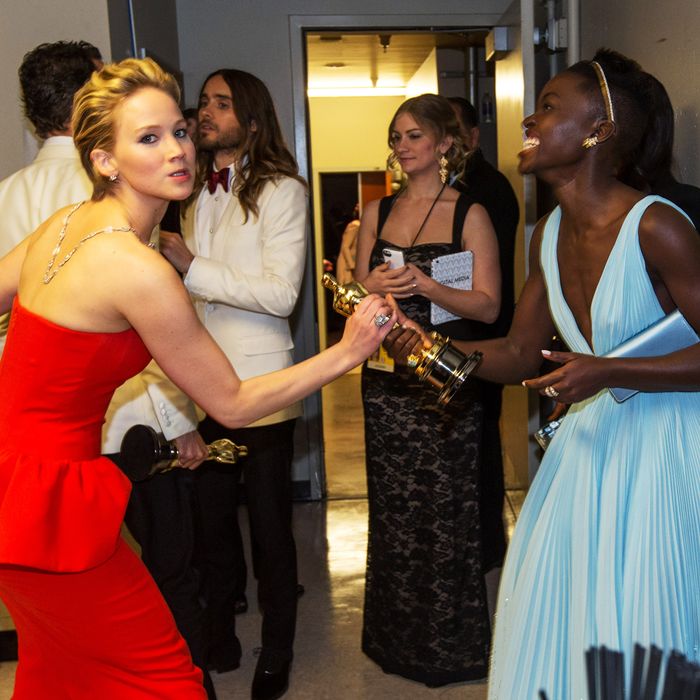 Photo: Christopher Polk/Getty Images
Thanks to her many GIF-ready red-carpet tumbles, funny faces, and drunk-girl anecdotes, Jennifer Lawrence has become this year's Anne Hathaway. Once fans thought: I love how real that J.Law is! Now, they're starting to think: Ugh. And boy, does she know it.
In the June issue of Marie Claire, the actress reveals she's aware of her own backlash: "Honestly, I'm just doing my best. But if people want to start the backlash, I'm the captain of that team. As much as you hate me, I'm ten steps ahead of you."
But even she knows that she's one goofy red-carpet antic away from totally alienating fans, friends, and celebs whose photo-ops she has ruined with her spontaneity:
"I'm way too annoying because I get on red carpets and I'm really hyper, most likely because I've been drinking, and I can't not photo-bomb somebody if it's a good opportunity. It's something I always tell myself: 'You need to calm the [bleep] down. You don't want to constantly be a GIF.'"
Love her, hate her, love her again, or don't even think about her. This is a lesson all reformed theater kids must learn: You can't (fake) fall your way into people's hearts and expect to stay there forever.