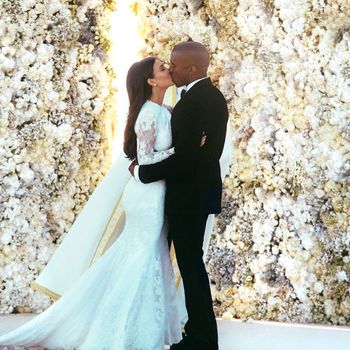 As you perhaps imagined, the focal point of the Kanye West and Kim Kardashian nuptials was an enormous, golden box of toilets.
The New York Post (which has reviled this union all along) reports that Kimye had to supply a lavatory, because their wedding was held in an inaccessible part of a Florentine fort. But they made it grand, and they made it magnificent. It was 49 feet tall (reportedly), and it was golden. The necessities of the human body never knew such cosseting! The Italians allegedly called it Torre di Bagni Oro (or the Gold Toilet Tower). And from then on, the Kimye wedding was known as the wedding at the Gold Toilet Tower.
Based on the account of an anonymous "Page Six Spy," the report features a lot of chaotic errands, structural mishaps, and shouting. For example: West allegedly yelled, "You Italians don't understand my Minimalist style," when he was visually offended by some clunky speakers near the Torre di Bagni Oro. The marble table in front of the Torre di Bagni Oro had been engraved with guests' names in lieu of place cards. There were spelling errors. And, to keep things lively, Jaden Smith reportedly ran about smashing glasses on the ground from 8:30 until 10:25 p.m.
A fun time was had by all at the Gold Toilet Tower Ceremonies! See you all next year.