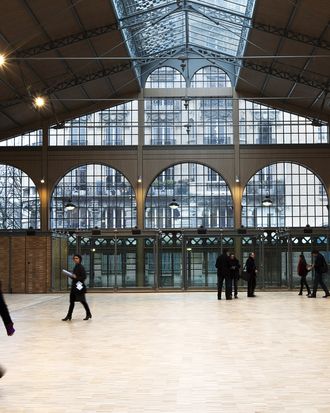 Photo: Joel Saget/AFP/Getty Images
There's been a buzz in Paris lately about the recent, long-awaited opening of Le Carreau du Temple. It's a 19th-century covered market in the Upper Marais that was semi-abandoned for decades, but — thanks to one of the city's first forays into participative democracy, in which locals vote on what they want to happen to a site — has found new life as a beautifully redesigned center for exhibitions, performances, sports, exercise, eating, drinking, and people-watching. (It's so new that when you click into these different activities on its website, nothing's listed yet, even though quite a bit has been going on there in recent weeks, including what looks like a marvelously costumed Twelfth Night through May 28.)

Carreau du Temple's reopening also seems to officially mark the trendy-fication of the Haut Marais, that upper portion of the Marais that has remained sleepy the past few decades even as the rest of the Marais became, essentially, a cross between Soho (shopping, trendiness, tourists) and Chelsea (flashy gays).
In addition to the Carreau, there are hot spots there like Café Charlot, an Isabel Marant store, and the home of top Paris gallerist Thaddaeus Ropac. It's also the home to Bob's Kitchen, a tiny spot that's been the place the past few years to get Americanisms like juices, smoothies, vegetarian stews, pancakes, and chocolate-chip cookies, as well as my beloved and unfussy Temple Celeste, where, weekly, I ate delicious, cheap Szechuan as I knew it in New York.

"Carreau du Temple is going to put the Haut Marais — or NORMA, which is what I call the Northern Marais — on the map as a cultural destination," says my New Yorker-in-Paris friend Richard Nahem, who for years now gives intimate tours of the Marais via his newsy cultural blog Eye Prefer Paris. "I think it'll do for the Haut Marais what the Picasso Museum did for the Lower Marais starting in 1985. Hopefully, it won't get as commercialized, but it's actually already started — in addition to Isabel Marant, Maje and A.P.C. already have shops there."
More big news in the Haut Marais, the kind to rival glitzy foodmarts like New York's own Eataly? The opening of French mogul Cédric Naudon's La Jeune Rue, an ever-growing "concept street" of high-end locavore markets and bistros designed by an international roster of stars. So far its offerings include an Italian restaurant by Patricia Urquiola, a Jasper Morrison tapas bar, an Ingo Maurer speakeasy, a Tom Dixon seafood store, and a Paola Navone Korean street-food restaurant, with lots more on tap in coming years. (Naudon bought up a lot  of real estate in the Haut Marais to bring his foodie dream to life.)

Also, don't forget the Haut Marais's Marché des Enfants Rouge, a cozy warren of food vendors and restauranteurs of every stripe — French, Japanese, Lebanese, Moroccan — that, a bit like Smorgasburg, consistently draws tourists and hipstery locals alike. (My tip? Go for lunch on weekdays.)

"Haut Marais reminds me a bit of Nolita after Soho Proper became saturated with chain stores," Richard added.