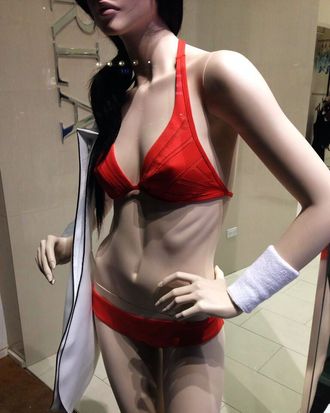 "How does #LaPerla think ribs on a mannequin is ok?!" tweeted entrepreneur Michael Rudoy yesterday, enclosing a photo of a mannequin with jutting ribs on display in the lingerie brand's Soho store. While mannequins have gotten weirder as of late, this one's appearance was extreme enough that several other Twitter users chimed in, causing the lingerie brand to issue a statement, on Twitter, that the mannequin in question has been removed.
We have an update on this issue: The mannequin photographed has been removed from the store and will not be used again by any La Perla boutique. We are in the process of redesigning all La Perla stores with a new concept image and the mannequins that are currently displayed in our US stores will no longer be used. We appreciate and value everyone's comments, thank you for bringing this to our attention.
Good on La Perla for responding so quickly to the voice of the people. We reached out to a rep for La Perla and will update this when we hear back.