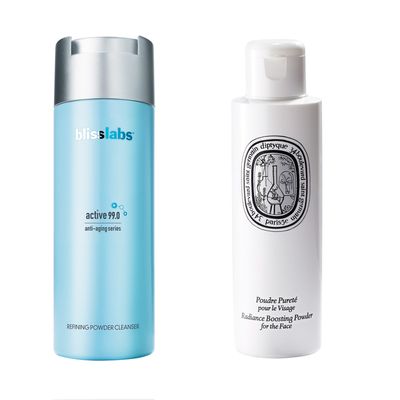 Facial powders, borrowed from Japanese skin-care routines, are the new skin-care phenomenon (yes, even newer than face oil cleansers). A way to cleanse skin without harsh ingredients like sulfates and alcohol, some powders even deliver gentle exfoliation. A new way to wash your face and a mini-science experiment in one, various skin-care lines have recently released their take on cleansing powders. Last week, I tried two new versions— including one that smelled like an expensive French candle. Here are my results.
Diptyque Radiance Boosting Powder, $58: New to the skin-care game, this daily cleanser mimics one thing from its similarly scented candle cousin: an invigorating smell. The makeup of powdered rose, jasmine, and neroli petals may recall your favorite Diptyque scent, while the natural white clay powder made up of antioxidants and minerals quickly turns (with the help of a black spongy ball and a few drops of water) into a creamy cleanser that gives your skin a glow. The powder is super-gentle and paraben-free, which makes it great for sensitive skin. The first thing I noticed after trying this product, aside from the lovely smell (which can be a bit overbearing if you like more of a neutral scent), was that it didn't make my skin obviously radiant, but it was somewhat noticeable. After a couple of days, the sponge ball became a bit tedious — but without it, the product clumped together, becoming less creamy and more like clay.
Blisslabs Active 99.0 Anti-aging Refining Powder Cleanser, $60: This is a two-for-one deal: exfoliate and cleanse. The sulfate-free product makes lots of promises, and it indeed delivers. Add the powder to wet hands and rub them together to create a milky foam with small granules help to smooth skin. It also contains hyaluronic acid, which moisturizes skin, and arbutin, which helps in getting rid of dark spots. Immediately after rinsing the foam off, I could see a huge difference in my skin texture. After drying, my face continued to glisten. I even went a few days only wearing blush and mascara. I used this product once every morning, but if you want a gentler cleanser, it would be better to alternate with other products throughout the week.
The Blisslabs cleanser gave the best results for my skin. I was amazed at how bright and smooth my skin was, and the slight improvement in my skin tone. It's easier to use than the Diptyque since there's no spongy ball — and it delivers two-for-one cleanser and exfoliation benefits. But the smell and gentleness of the Diptyque cleanser makes it a great product as well. It's a good first step to your daily skin routine and an effective cleanser. Since it contains minerals and antioxidants, it's a little more earth-friendly and gives your Clarisonic a bit of a break.