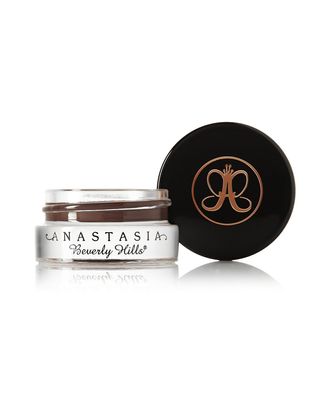 It is a rarely accepted beauty truth that eyebrows of Cara Delevingne-esque magnitude look good on very few people in the world. I accept this truth, much like I accept that I must forgo Birkenstocks in favor of non-stumpy options. My approach to filling in my brows is decidedly low-maintenance: I draw in a few individual hairs using a brow pencil until my brows look like some semblance of Jennifer Connelly's, and then stop. But when I saw internet raves for and the frequent selling out of Anastasia's Dip Brow Pomade, I was intrigued.
Coming in a pot, the pomade resembles MAC Blacktrack or any gel eyeliner. It's not quite as thick as a gel eyeliner, and has a slightly creamier, waxy texture. What it does have in common with gel eyeliner is durability — the formula claims to be sweat- and waterproof and comes with a brush that has a slanted, stiff tip. They're wax-on eyebrows, and not so much wax-off.
You need the tiniest, tiniest bit of this pomade for your brows. Too much and they will look straight out of a Picasso Cubism painting: solid, hairless slashes. Although the formula stayed pretty resistant throughout several workout classes, it was blend-able for application, although not smudge-y. While it was difficult to draw individual hairs using the brow pomade, the wax consistency made it easy to coax the brows into a different shape. It creates more of a sculpted look, perhaps best used for a studio or photography look, rather than a natural one. It's not quite an effortless brow look, but may be just the thing for an eyebrow connoisseur.