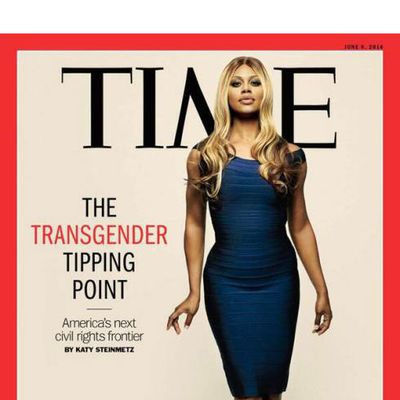 It's safe to say this is a pretty big deal. Orange Is the New Black actress and activist Laverne Cox is making all sorts of history as the first transgender woman to appear on the cover of Time magazine. In what reads as a response to the fan-generated #whereslavernecox protest that cropped up when Cox was left off this year's Time 100 (despite placing fifth in the magazine's online poll), the cover story explores her life and her role in a recent push to bring transgender issues to mainstream attention — including efforts by many others like Janet Mock, TED speaker and model Geena Rocero, and Barneys. "We are in a place now where more and more trans people want to come forward and say, 'This is who I am,'" she said.

She sums up what's at the heart of what Time calls "America's next civil rights frontier": 

There's not just one trans story. There's not just one trans experience. And I think what they need to understand is that not everybody who is born feels that their gender identity is in alignment with what they're assigned at birth, based on their genitalia. If someone needs to express their gender in a way that is different, that is okay, and they should not be denied healthcare. They should not be bullied. They don't deserve to be victims of violence. … That's what people need to understand, that it's okay and that if you are uncomfortable with it, then you need to look at yourself.
Who wants to start the #LaverneVogueCover campaign?