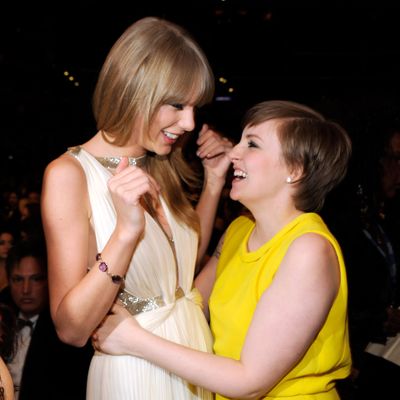 Photo: Kevin Mazur/WireImage
Taylor Swift has a friend for every occasion: a road-trip friend, a history-appreciation friend, a friend for errands, a sisterly friend, a friend for matching clothes, a friend for displaying new haircuts. So where does Lena Dunham fit on this dance card? Oh, quite easily, explains Taylor — Lena is her own personal fashion icon:
[For] fashion inspiration … Lena Dunham always has great websites and shops at great stores. She always tells me her newest obsession, whether it's a new website, a blog or a store. She's really good with that stuff.
This is 100 percent unfounded, but I will put forth that this Great Catsby sweatshirt was the product of Dunham counsel.