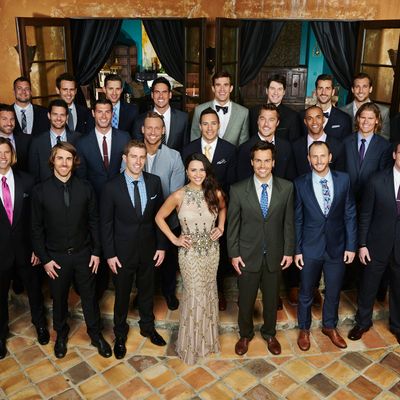 Photo: Mitchell Haaseth/ABC
There's a needle in every haystack, a shooting star in every sky — and a lesson to be gleaned from every episode of ABC's The Bachelorette. As this season's contestant, Andi Dorfman — the ADA who made Bachelor history by finally crying douche — embarks on her own "noble love quest," we're certain the lessons she learns will be invaluable to our own lives. How will Andi and her men learn to trust? To love? To let themselves go? Each week of this season, we will extrapolate those lessons and more from Andi's reality TV story of romance.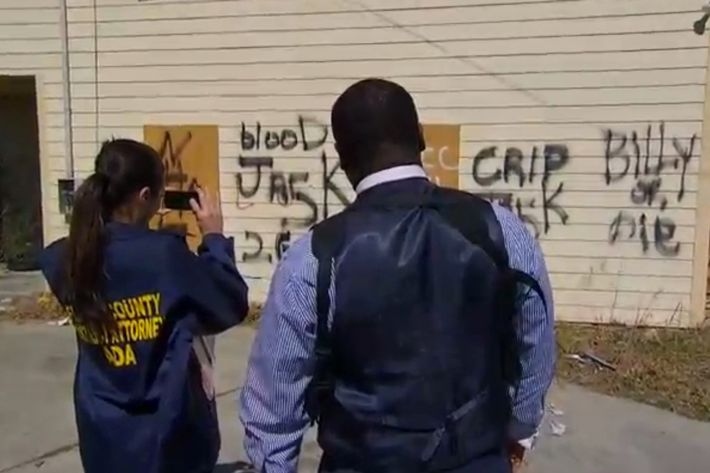 Last night, Andi was presented with her group of 25 men. She has forsaken her job bringing in the bad guys and gang members like Blood Jack and Crip Billy (see above) to find her husband in this lineup. And it's like ABC gave her a big box of chocolates: a box of 25 square-jawed, marginally distinguishable chocolates. At least one is definitely a gross coconut and most are unidentifiable nougats, but one is cherry cordial. How do you convince Andi you're the cherry cordial among the bunch?  Which brings us to last night's lesson —
How to Stand Out From the Crowd.
Some tips:
Try inventing a career like JJ did. JJ the bow-tied "Pantsapreneur."

Vividly explain the pronunciation of your name: such as Emil, which is pronounced "like anal, with an M."

If, conveniently, you are a doctor, show off your diagnostic skills with this line, borrowed from Jason Crazy Eyes, MD: "You must have a fever. Because you are hot. No, seriously, you look great."
Push a limo up a hill like Cody did.
Give your beloved stolen property the way Brett the mulleted hairdresser did. He stole a hotel lamp.

Be the black guy.

Be the other black guy.

Seem like a genuinely decent human, like Nick V. — who, judging by the confident tie and three-piece suit, could turn out to be a monster.

If all else fails, just be hot. Like mind-blowingly hot, à la really hot Marcus, who will also most likely turn out to be a monster.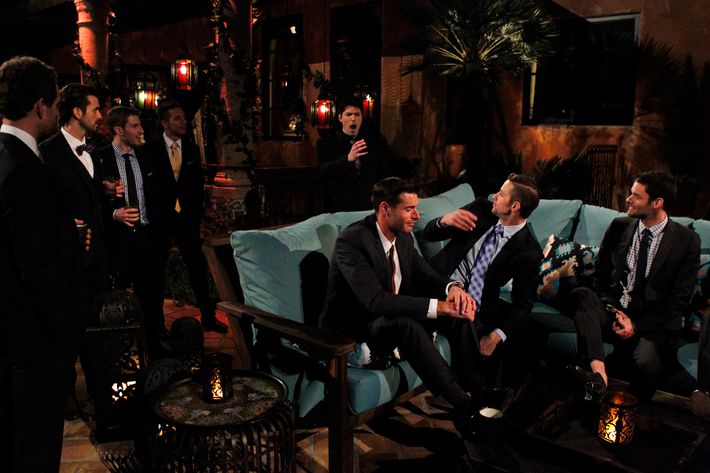 After last night's Rose Ceremony, the frontrunners for Andi's heart are Nick V. (nice guy) and Marcus (hot guy). Both black contestants, Ron and Marquel, remain. Inexplicably, so does the thieving hairdresser.