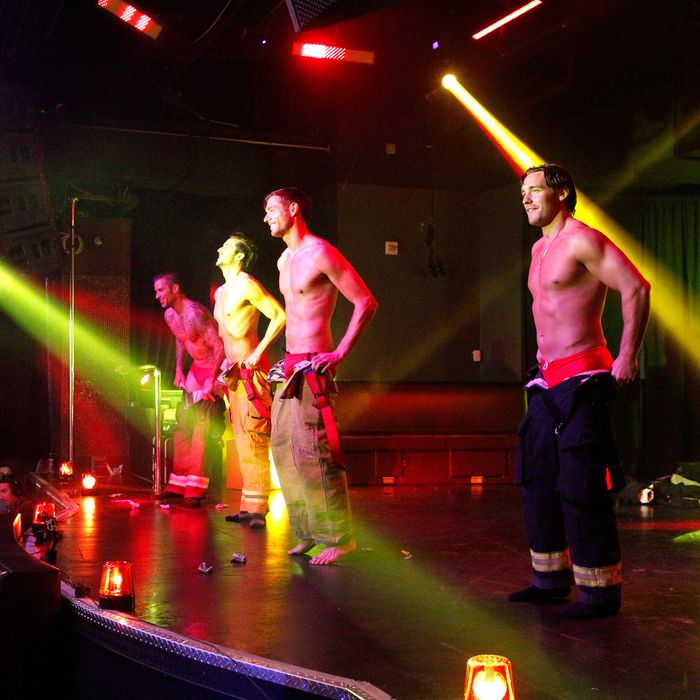 Photo: Rick Rowell/American Broadcasting Companies, Inc.
Last night's Memorial Day episode of The Bachelorette paid loose tribute to America's heroes by making contestants dress up as the sexy versions of various members of the armed forces and performing a striptease for Andi Dorfman and the rest of America.

But this wasn't just a Magic Mike fantasy come true. Oh no: Baring your no-no parts is metaphor for baring your soul, as last night's episode was the first of Andi's dates with her would-be paramours. That meant we saw the first cryptic date cards arrive at the Bachelor Frat House, they went on soaring helicopter rides to a beach, and, most important, it was the first time the contestants shared their deepest, most TV-friendly inner selves.

What a contestant chooses to reveal about himself in these early days is pretty much crucial. But there isn't a lot of time — so anecdotes have to be telling without making the love-candidate seem like a total basket case. So how does a contestant show their pecs, but also his inner truth? It's a delicate balancing act, indeed.
Take a look at Andi, because she's got it down. She artfully chose the beach as a date spot — to expose both her bikini body and childlike spirit. Let's see how a few of her 19 boyfriends did during this week's lesson on truly exposing yourself in love, ranked in order of appropriateness.
The posthumous scenes with perfect Eric, the contestant who passed away after the filming of the show, are almost unbearable to watch. This week he spoke about his scariest moment during a trip to Syria, engaged in the most joyous sledding montage, and discussed his desire to have kids. Then the hashtag #livelikeeric popped up, and the whole world wept. Got a rose.

Josh M. was afraid of being pegged as the dumb jock, so he spent this episode sweating, blushing, and struggling to form sentences that would help bust the stereotype and show his "shy side." Got a rose, and a make-out session. 

Nick V. created a fake date card and surprised Andi with Champagne, thereby revealing that he is a delight and a wonder. Also got "fourth-date level" and revealed that he's looking for true love, too. Got a rose.

Marcus revealed that he is still hot. Got a rose.

Marquel revealed his fantastic confidence in his ability to mix patterns. Got a rose.

Chris artfully revealed a failed engagement and showed his ability to commit without having to be committed. Also showed that he's unafraid to grind his hips against a lady during a slow dance. Got a rose.

Bradley the opera singer bared the song in his heart by belting an Italian aria at close range. Got a rose.

Carl … Who is Carl? No rose.

Brett the hairdresser revealed he has a slight British accent, even though he hails from central Pennsylvania. Got a rose.

Nick S. gamely wore the robot suit for his striptease, thereby displaying his attractive "up for whatever" attitude. But then he bent over in a thong and revealed a no-no zone. Unfortunately, that just ain't the way to a woman's heart. No rose.

Poor Craig revealed that that his soul contains an entire drunk fraternity. After taking shots of Fireball, he decided to focus on getting to know "open-book" Andi on a deep personal level instead of talking about himself. The first question he asked: "What is your worst thing about your parents? Boom." Just before jumping into a pool fully clothed. No rose.

This week marked a sad good-bye to drunk Craig, a.k.a. "Chris Farley," Carl the forgettable firefighter, and the unsexy-robot Nick S. But rejoice! Next week's double episode promises lessons in seduction from Boyz II Men.