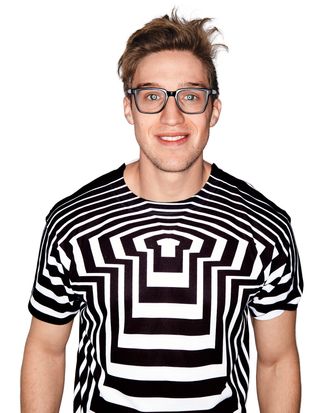 Very meta T-shirt.
I made it myself through this website, Jakprints. I love recursions. I'm a lawyer by day, but I also have an artistic streak.
What kind of lawyer are you?
I have my own practice, and I mostly do marijuana law in Colorado. I'm based here but have a bunch of friends out there involved in the industry. They told me they needed a lawyer, so I took the Colorado bar, left my job at a firm, and set up my own practice. It's a new industry, and I wanted to get in on the ground floor.
What were the challenges of hanging a shingle?
Convincing people who grow marijuana to trust a lawyer. I try to just act like a regular person. But I have a rule: no smoking with a client.
Lightning Round:
Neighborhood: Upper East Side.
Most spent on a pair of shoes: $500. "I bought some Rick Owens high-tops four years ago. I've probably worn them about 600 times."
Cost of haircut: $25, at the Red Chair Studio. "It just went up from $20."
Favorite street: Union Square.
Exercise regimen: Olympic-style weight lifting three times a week at Concrete Jungle.
Coffee: Black. "I grind my own beans, and I live and die by my French press."
*This article appears in the June 2, 2014 issue of New York Magazine.