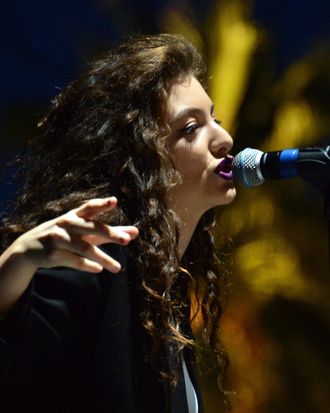 Photo: Frazer Harrison/Getty Images
Lorde, patron saint of tough cookies, is fighting fire with fire. She reports that a New Zealand–based photographer named Simon Runting is aggressively stalking her. So she is exposing him: posting his photograph, his Facebook, and his previous celebrity-stalking history. She writes:
i understand that this comes with the territory. i do not understand why I should be complacent.

this should not be an accepted standard for young women or anyone in this industry.

i refuse to stay complicit and i refuse to stay passive about men systematically subjecting me to extreme fear.
Lorde: a champion of addressing the various systemic agonies of the celebrity-industrial complex.