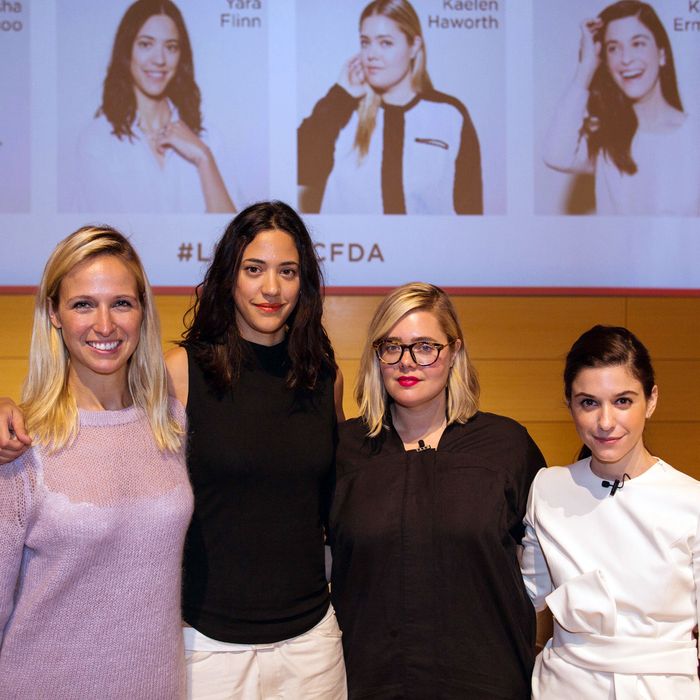 Photo: Courtesy of Lucky Magazine
On a sunny Friday morning at Parsons, Eva Chen laid out the biggest misconceptions about fashion: "That it's catty, and it's backstab-y, that it's Zoolander." Okay, the Zoolander part, she admitted, "is a little bit true sometimes." But for the four featured designers on Chen's panel discussion, who are part of the CFDA Fashion Incubator program, camaraderie is part of the deal. (One even compared it to summer camp.) Katie Ermilio, Misha Nonoo, Kaelen Haworth, and Yara Flinn made up the panel, which was co-hosted by the CFDA's Steven Kolb.
The quartet discussed some of the highs and lows of running a fledgling business. While Ermilio hails from a garment-industry family, she noted that getting a small business off the ground is still a challenge: "We're all young women who have our own brands, and we don't have any co-pilots along with us." Said Flinn, who designs the line Nomia, "You go through all your failures alone, and you go through all your successes alone, and the failures alone were really, really tough for me." Nonoo agreed: "There's a sense of ignorance or innocence or naiveté that goes into just going out there and starting your own label, because if you know all of the things going into it that you're going to face, you might think twice."
All four agreed that seeing their designs make their way out into the world, whether on the street or a red carpet, was the most gratifying part of designing. Said Nonoo, "To see a person walking down the street, wearing something that you've created, and you don't have any affiliation to them. And you're like, They went and bought that? That's amazing. It's the best feeling in the world." Chen asked, "Do you guys ever stop and chase them down the street, like, 'I did that!'?" Haworth admitted, "I did once."
Of course, Instagram champ Chen — who has nearly 200,000 followers — had to ask about how the designers use social media, and how they draw the line between personal and professional posts. Short answer: They don't feel a need to. "I've literally met stores because they're like, 'Oh, your cat is cute!'" said Flinn.
Chen and Kolb also asked about celebrity dressing, which factors differently from line to line. For Nonoo, a dress "flew off the shelves" because Kate Middleton wore it, but Flinn said, "My customers are almost more likely to buy it if some unknown musician wore it." Ermilio added that she has seen some sizable press hits from Krysten Ritter and Kate Bosworth wearing pieces. But, noted Haworth, "Everybody is obsessed with Beyoncé." Which led the four to shout, in unison, "Call us, Beyoncé!"